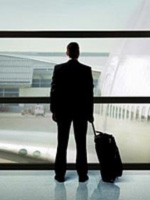 I have to confess that I've been a bit hesitant to watch Jason Reitman's "Up in the Air" a second time.  When a movie hits me as perfectly as this one did, gets so much right, seems like such a gift of the season, my reaction is to let it lie for a long time.
What if I see it again and it lands flat?  What if the emotion of the first viewing has somehow been compromised by my life in between viewings?  I don't want to lose the high a film puts me on and reconciling that with a need to further investigate can be really tough.
I'm glad I went back to the well on "Up in the Air," though, because it illuminated so many textures I didn't pick up on initially.  Dana Glauberman's sharp editing, for instance, which, scene for scene, adds so much to Reitman's script.  The way real life interview footage with laid-off employees is seamlessly integrated into the narrative.  The timing in comedic moments.  It's very precise.  She's more than deserving of the Hollywood Film Fest award she'll receive on October 26.
I had a chance to speak with Glauberman after the screening and look forward to interviewing her for Tech Support in the coming weeks.  She's a dynamic, smart young woman with a great sense of humor.  Editing legend Anne V. Coates was also in the crowd, by the way.
Another thing that hit me were the levels of character layering in the script that can really only be fully discerned after knowing where the narrative goes.  Ryan Bingham's repetition of the phrase, "Make no mistake," for instance.  It may have been just favored verbiage from Reitman and totally subconscious, but it's reflective of the main character in some ways, a man so uniform and streamlined in his life that he's left no room for failure on any level, small or large, and as a result, robbed himself of the freedom that comes with that, with emptying his backpack, if you will.
There's also the film's third act reveal, which is indicated in nuances and even outright dialogue in earlier scenes more than I had originally thought.  I spoke to a colleague in Telluride who felt the film cheats in some way for leading the audience blind in a certain direction, but upon second glance, the subtlety of the script and direction reveals that isn't necessarily so.
Anyway, just some follow-up thoughts on one of the very best films of the year.  I'm so happy this one came along.  I imagine it will become the most re-watched contender of the season in my neck of the woods.  I'm also glad I let it marinate a bit before seeing it again.  Ivan Reitman told me last night that the filmmakers did a general test screening reaction some point along the way and, in a somewhat unusual move, followed up with the audience 48 hours later.   All of the scores had gone up.
Staying power is a big deal.  This film has it.