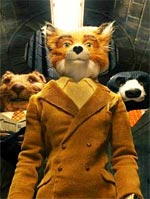 I mentioned recently that the London Film Festival is upping its profile by adding a couple of new awards to its roster, including a crowning Best Film prize. This, I felt, was a positive development for a festival that becomes a richer, more rewarding cinematic showcase by the year. However, I must admit to being disappointed by the conservative approach they've taken to their new premier prize.
Festival director Sandra Hebron yesterday unveiled a shortlist of nine contenders for the inaugural Best Film award, and a mostly familiar bunch of titles it is:
"Balibo" (Robert Connolly)
"Bright Star" (Jane Campion)
"Fantastic Mr. Fox" (Wes Anderson)
"Micmacs" (Jean-Pierre Jeunet)
"Nowhere Boy" (Sam Taylor-Wood)
"A Prophet" (Jacques Audiard)
"The Road" (John Hillcoat)
"A Serious Man" (Joel and Ethan Coen)
"The White Ribbon" (Michael Haneke)
The winner will be picked by a handpicked (and really rather excellent) jury headed by Anjelica Huston, including John Akomfrah, Jarvis Cocker, Matthieu Kassovitz, Charlotte Rampling and Iain Softley.
Props for the jury selection, but ho-hum to the shortlist. Some fine films there, no doubt. But from a festival programme boasting over 175 feature films from all walks of cinema, was it too much to ask that they dig a little deeper than merely listing a few of their glossiest gala premieres?
I understand the need for a shortlist. The jury can't be expected to catch everything, after all — though in the space of a fortnight, I think it's possible to tax them with a few more than nine films. But why not challenge them with a broader cross-section of the entire programme? Where are the documentaries, for starters? The less obvious world cinema? The experimental work to which the festival devotes an entire sidebar?
In the week or so of advance festival screenings I've attended so far, I've already seen numerous films more deserving of consideration (not to mention exposure) than, say, "The Road": "The Portuguese Nun," "Ajami," "His & Hers," and so on. (Not to mention several prestigious selections that I already caught in Venice.) They've picked a smart jury — I'm sure they could handle a riskier range of titles.
Ah, never mind. It's a shortlist clearly designed to draw as much mainstream media attention to the award as possible — in which case, good for them. But I do think that for a festival to boil down such a carefully compiled lineup to such a cautious shortlist is a little self-demeaning.
Happily, the shortlist of titles for the festival's long-standing Sutherland Trophy (awarded to first-time filmmakers) isn't quite so by-the-numbers: "Ajami," "Bunny and the Bull," "Cold Souls," "Eyes Wide Open," "Lebanon," "Metropia," "Samson & Delilah," "Shirley Adams," "Wah Do Dem," and "Wolfy." (Odd that "Nowhere Boy" isn't included here.)
Meanwhile, the Grierson Award, handed to the best documentary in show, will be awarded to one of the following:  "Defamation," "45365," "Have You Heard From Johannesburg: The Bottom Line," "La Danse: The Paris Opera Ballet," "Mugabe and the White African," "Osadne," and "Sergio."
And finally, the contenders for the inaugural Best British Newcomer award: J. Blakeson ("The Disapperance of Alice Creed"), Leigh Campbell (writer, "Kicks"), Tom Harper (Director, "The Scouting Book for Boys"), Lindy Heymann (director, "Kicks"), Jordan Scott (director, "Cracks"), Jack Thorne (writer, "The Scouting Book for Boys") and Malcolm Venville (director, "44 Chest"). (Trivia alert: Jordan Scott is the daughter of Sir Ridley.)
The festival kicks off on October 14.