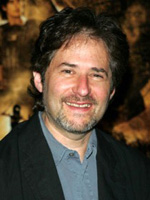 One of the contenders we've certainly had an eye on in this year's Oscar race is James Horner, composer of the score for James Cameron's "Avatar." The last time the duo worked together was the last time Cameron made a movie, and 1997's "Titanic" brought in a massive Oscar haul that included a statue for Horner's contribution.
Over at MovieScore Magazine, Mikael Carlsson is calling the score, which is unheard as of this point, "the film music event of the year," and he gets a quote from Fox music executive VP Mike Knobloch:
It's a brilliantly unique blend of traditional and contemporary, electronic elements and spans the entire spectrum of attitude and energy – from bombastic action to the delicate, romantic discovery of a new world.
That's fine and good and generally empty as a quote of substance.  You could say that about the score to "The Rock."
There's more though.  Everything comes from this single source so it's essentially publicity, not really reportage, but Knobloch offers this nugget, which is interesting from a creative stand-point:
[There] is a great deal of acoustic and electronic rhythmic elements driving the score and vocalists singing and chanting in the fictional Na'vi dialect. Horner is doing a brilliant job of creating music that transports us to another world, but supports the film using the traditional orchestral conventions to make a sound that's hugely cinematic.
I'm currently predicting Horner for an Oscar nod based largely on pedigree alone, but I can only hope the score, and the film, lives up to the hype.