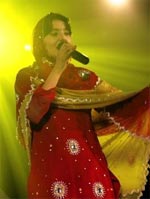 Two interesting news tidbits relating to the Best Foreign Language Film race surfaced yesterday, the first of which is the United Kingdom's bold, wholly unexpected decision to submit Havana Marking's acclaimed documentary "Afghan Star" as their entry.
The news is surprising for a number of reasons. It's the first time the UK has submitted a documentary in the race — perhaps the selectors were inspired by the groundbreaking nomination of "Waltz With Bashir" in the category earlier this year.
Moreover, the Afghanistan-centered film — which contains dialogue in English, Dari and Pashtun — marks a dramatic change from the Welsh-language features that BAFTA almost always puts forward for Oscar consideration. (Few people give the Brits much thought in this category, but they've actually been nominated twice before: for "Hedd Wyn" in 1993 and "Solomon and Gaenor" in 1999.)
"Afghan Star" — which traces the journeys of a group of contestants on the Afghan version of "American Idol," while observing the democratic impact of the show in the country's troubled political landscape — now stands as one of the category's highest-profile entries. You may recall that the film was a hit at Sundance, where it took both the Audience Award and the Directing Award in the World Documentary strand.
It's a really smart choice. The film is a vastly entertaining and accessible piece of work that meshes political and personal struggles to unexpectedly moving effect, as well as offering a skewed reflection of an American pop-culture institution. I had already been considering it as a dark horse for a Best Documentary Feature nod; now it could be a spoiler in the foreign-language race too.
Whatever happens, the news does at least reflect baby steps of progress being made in this ever-problematic category: just a few years ago, Academy regulations would have prevented the UK from submitting a film so un-British in subject matter.
The second tidbit concerns a second foreign-language submission that has already entered the Hollywood remake stable. I mentioned recently that Denmark's "Terribly Happy" is being remade, with producer (and Academy foreign-language committee chief) Mark Johnson shepherding the project. Now Iceland's entry, "Reykjavik-Rotterdam," is getting the same treatment.
Working Title is redoing the thriller, which revolves around a security guard and former alcohol smuggler forced into doing one last job that goes badly awry. (Ah, that old chestnut.) Mark Wahlberg is set to star. I'd say this gives the Icelandic original — a critical and commercial hit in its home country — a leg up in the race, but voters tend to be wary of genre efforts in this category.
Either way, it's interesting to see so much movement on some titles before the race has even begun.