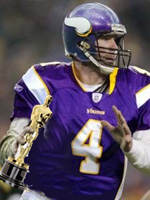 Okay, here's my idea.
He seems to be some sort of immortal modern deity, albeit a tractor-steering, dip-chewing sports monolith, but what else to people really worship?  Anyway, he commands a pretty big audience at this time in his career.  He can single-handedly turn something into the most watched cable program in history, apparently.  And maybe the Farrelly brothers can have fun with the opening short film.
What, no good?  Not "movie-star" enough?  How about a well-publicized presentation gig?  Of Best Picture, no less.  Since seeing Brett Favre hand an Oscar to Oprah Winfrey or Tyler Perry would — oh my, can you just hear the cash register of ratings "cha-chings" now?  And hey, Favre/Eastwood wouldn't be too shabby either.  Whichever way the needle goes, you're covered.
Still no good?  Alright, let's stick with the 10.  Of course.  What was I thinking?