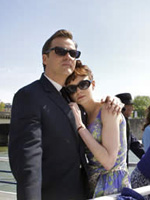 I didn't really talk too much about Lone Sherfig's "An Education" when I saw it a few months ago beyond starting the drum circle on Alfred Molina's wonderfully warm, authentic performance.  But I find the film on my mind more and more with an October 9 limited release right around the corner.
The film is sublime and in perhaps (for me) the best movie year of the decade, it continues to stand out as one of the 2009's most refined films on nearly every level.  The acting, of course, is impeccable.  I couldn't possibly write anything new about Carey Mulligan's work, and Peter Sarsgaard, who will hopefully be in the awards conversation but could be unfortunately forgotten in the clutter, delivers his finest work since "Shattered Glass" (and probably ever).  The entire cast, in fact (and as noted in this space) is likely to get a well-deserved SAG ensemble nod.
Back in June I wrote that "An Education" was an example of "that rare occasion when a filmmaker taps into profound truths with the help of a cast that gets it, the themes surging through every vein, a driven vehicle of purpose."  I don't feel any different today.
And the film seems to be capturing the imagination of others on its march to release.  Stephen Zeitchik, reporting from the film's New York premiere, seems to think the question remains as to whether "An Education" can compete outside of the lead actress race, but I don't think there will be a problem.  Best Picture, Best Adapted Screenplay, Best Supporting Actor, it will certainly be in these conversations, and perhaps Sherfig will get some play as well.
Zeitchik also notes that the film plays well to multiple generations, a key ingredient to a runaway awards success.
However, first Dave Karger and then Sasha Stone have brought up a potentially troubling aspect of the film concerning Sarsgaard's older man courting Mulligan's younger woman.  Karger, warning of a possible "ick" factor, gets reaction from Mulligan on the potential controversy, while Stone comes at things more analytically, drawing interesting parallels to the headlines of today (Polanski/Letterman).  But as each pundit notes, the situation is handled delicately.  I, for one, don't think there is cause for too much concern, but if there are more stubborn takes such as David Edelstein's, that could change.
Elsewhere Nick Hornby, as we've noted, is finally getting his day in the publicity sun for an expert adaptation.  And Anne Thompson strikes back with her handy AnneCam with a Telluride interview with Sherfig and Mulligan, as well as passing commentary on how "An Education" fits into a year with an unusually pronounced Jewish bent.
The film really is a precise work that, hopefully, can go the distance and really compete this year.  And Mulligan will have her work cut out for her as Meryl Streep burns through the season, but I think, even if she's not the one left standing, she'll certainly offer up a fierce fight.