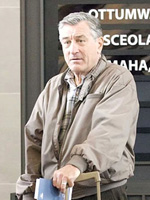 We've brought you up to speed on the list of Hollywood Film Festival award honorees the last few weeks (full list after the jump).  But today we get the news that Robert De Niro has been tapped to receive the Hollywood Actor Award, adding some steam to his bid for a lead actor Oscar nomination for "Everybody's Fine."
Of course, who knows what the virtual dismantling of Miramax will do to planned Oscar campaigns, but this is a nice added boost as the actor heads into the season looking for his first Oscar nomination in 17 years.  Fest director Carlos de Abreu is quoted in the press release:
Robert De Niro is an American icon. Not only is he highly regarded for his body of work as an actor, producer and director, but also for the passion, integrity and dedication he brings to his performances on camera, as well as his intense off-camera preparation and study of the characters he brings to life. His performance in the upcoming film "Everybody"s Fine" is outstanding and flawless.
The ceremony will take place October 26.  We're still waiting to hear about the Hollywood Actress Award winner, which will likely be Meryl Streep.

Hollywood Actor Award: Robert De Niro, "Everybody's Fine"
Hollywood Director Award: Kathryn Bigelow, "The Hurt Locker"
Hollywood Screenwriter Award: Nora Ephron, "Julie & Julia"
Hollywood Breakthrough Actor Award: Jeremy Renner, "The Hurt Locker"
Hollywood Breakthrough Actress Award: Carey Mulligan, "An Education"
Hollywood Breakthrough Screenwriter Award: Scott Neustadter, Michael H. Weber, "(500) Days of Summer"
Hollywood Animation Award: "Up"
Hollywood Cinematographer Award: Roger Deakins, "A Serious Man"
Hollywood Composer Award: Alexandre Desplat, "Cheri," "Coco Before Chanel," "Fantastic Mr. Fox," "Julie & Julia," "A Prophet"
Hollywood Costume Designer Award: Colleen Atwood, "Nine"
Hollywood Editor Award: Dana Glauberman, "Up in the Air"
Hollywood Production Designer Award: Rick Carter, "Avatar"
Hollywood Visual Effects Award: Scott Farrar, "Transformers: Revenge of the Fallen"
New Hollywood Award: Gabourey Sidibe, "Precious"