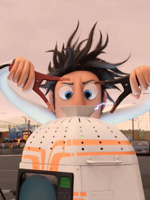 Over at The Odds (The Wrap's new Oscar blog, in case you haven't been reading), Steve Pond brings up the fierce competition of this year's animated feature category and brings up an intriguing tidbit worth considering.
In looking through Time Out London's list of the 50 greatest animated films of all time, collected by the magazine's editors and filmmaker Terry Gilliam, Pond takes note of the complete absence of both "Up" and "Ponyo." These are two films considered very much in the thick of this year's toon Oscar race, of course.
However, after that aside, he comes to the two animated films from 2009 that did make the list.  The first is Henry Selick's "Coraline," but, well, hopefully the other note will provide some insight to those puzzled over my animated feature film predictions.
Writes Pond:
And coming in at number 49 is a film that the editors call a "maddeningly ingenious and wildly original smart kids' adventure [that] will one day take its rightful place in the animated pantheon":

"Cloudy with a Chance of Meatballs."

It might be a head-scratcher, including the new Sony Animation feature from directors Phil Lord and Chris Miller. But it does serve to nicely illustrate one fact: in 2009, the competition for those three slots in the animated feature category may well be the fiercest ever.
I still say it's a competition for one slot, as both "Up" and "Coraline" are assured nominations.  However, the third slot isn't going to simply fall to knee-jerk Miyazaki worship or nostalgic traditional appreciation in "Ponyo" or "The Princess and the Frog" without a fight.  Animators are down with "Meatballs" in a very big way.
The only bummer here is that it's unlikely 16 films will be submitted for qualification.  That arbitrary number will keep two other well-deserving titles out as arguments can be made for a number of titles.
Worth noting: "Cloudy with a Chance of Meatballs" is mixed by Oscar nominees Michael Semanick (who worked on "WALL-E," you'll recall) and our old friend Greg P. Russell (very much in the mix with "Transformers: Revenge of the Fallen").