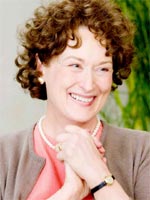 Coincidentally enough, the same day that Kris spotlighted the Best Actress race, the category has been on my mind too — as a thought hit me that could factor in what is potentially one of the tightest duels of the season.
Almost every Oscar prognosticator on record has already boiled the Best Actress contest down to Carey Mulligan versus Meryl Streep, and until the precursors arrive to shed some light on the matter, there's almost nothing in it on paper.
Advantage Mulligan for being in a probable Best Picture nominee. Advantage Streep for playing a prominent real-life figure. Advantage Mulligan for being this year's hottest ingenue. Advantage Streep for being, well, Meryl Streep. And on it goes, back and forth.
But if there's one area where Mulligan holds a clear advantage over Streep, it's with the so-called "BAFTA block" … the British contingent of voters who seemingly make their presence felt more in the Academy voting by the year. (Recent BAFTA-led surges for "The Reader," Marion Cotillard and Tilda Swinton are a case in point.)
Of course this may seem obvious, given that Mulligan is a British star in a largely British production. But compounding the advantage is the fact that "Julie & Julia" isn't playing nearly as well in Britain as it is Stateside — after a month in release, the film is sitting on a modest £2.3 million, roughly half of what "(500) Days of Summer" has grossed in the same period.
The reason? Most British viewers haven't the faintest idea who Julia Child is. So, star allure aside, the film exerts roughly the same hook that a biopic of Delia Smith (look her up) would in the U.S.
The drawback for Streep is that her performance in "Julie & Julia" is largely dependent for its effect on at least a basic familiarity with the icon she is embodying: without that knowledge, her expert assemblage of Child's eccentric affectations and vocal mannerisms can be a little alienating. ("That was a real person? Who the hell was that?" was the post-screening response of one friend.) Accordingly, while reviews for the film have been largely sympathetic, Streep's performance hasn't drawn quite the same level of gushing from UK critics as from their American counterparts.
This is, admittedly, only a very mild concern: the Oscars will always be a largely American institution, of course, with their own special relationship to the actress. And given the BAFTAs' slavish Oscar-anticipating tendencies of late, Streep will likely score a nod there anyway, though she won't win.
Still, I mention it only as an extra factor to consider: if this race really does go to the wire come February, the "who is Julia Child" vote could be the tiny weight that tips the balance in Mulligan's favor.
Of course, all this is a moot point if people ultimately choose to rally behind, say, Gabourey Sidibe instead, or if my stubborn "It's Complicated" theory pans out. Such is the silliness of talking about the Oscars in October. But hey, that's what we're here for.