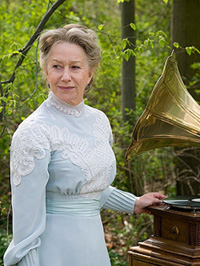 Now is the time when everyone begins assessing the race at its beginnings, and the gist I'm getting is that no one really knows what to write about.  Stabs at analysis end up being responses to other takes or rehashed arguments, and nothing really insightful is being brought to the table.
And let's face it.  As we dip into what looks to be the longest early-season lull in some time, there really is nothing insightful to offer.  So let's just spit-ball…
I think the Sony Classics acquisition of "The Last Station" is more significant than most seem to be aware right now.  There are only a handful who have seen it (Telluride being the film's only festival stop so far), so that's understandable.  And the film isn't a knock-out, one that will be damned as merely efficient in some circles.  But with Helen Mirren in the lead actress race, it's worth noting that suddenly that category is further framed as the old guard versus the new.
And I may be wrong in my conviction, but I have to say it again: Mirren is VERY much in this race.  As the fiery Countess wife of a literary titan, she brings equal parts passion and delicacy to a complicated, certainly flawed character.  She's afforded a number of moments that give her room to chew the scenery, and if Christopher Plummer happens to ride a wave of sentiment to a nomination as well, part of me feels that he will owe something to Mirren's coattails.
My predictions for the leading ladies this week are Mirren, Meryl Streep, Carey Mulligan, Gabourey Sidibe and, my weak link, Marion Cotillard (who is expected to be a lead actress push for "Nine," but things could change).  In that collective we have three former winners, two legends of the form, two newbies and one performer shifting into the second gear of her career.  I think that's a pretty good balance.
"Mother and Child" could get a pick-up and perhaps we'll suddenly be talking about Annette Bening.  "The Lovely Bones" could give Saoirse Ronan more to chew on than we expect and then, voila.  And Michelle Monaghan could beat the odds and squeeze in for "Trucker," while Audrey Tautou could casually slip by almost unnoticed for "Coco Before Chanel."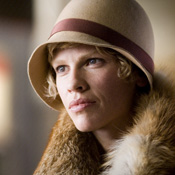 The buzz on "Amelia" continues to evaporate as there is no indication from the studio that the film has any awards stroke, so with Hilary Swank taking her leave, there is one slot somewhat up for grabs here.  Some may wish to hand it to Abbie Cornish for "Bright Star." I remain skeptical, as critics seem to be more in love with the film than the people who actually vote for these awards.  However, I can certainly understand the argument.
The real shame in all of this is that it's doubtful the field of perceived contenders will widen much beyond that, despite there being a number of interesting options out there.
I'm in the minority in my respect and admiration for Guillermo Arriaga's "The Burning Plain," but even detractors recognize the performance value in the piece, and that starts at the top with Charlize Theron.  Brenda Blethyn, meanwhile, is sublime in "London River," a film people will hopefully see.
And Allison Janney is actually quite good in Todd Solondz's "Life During Wartime," certainly an antidote to her cringe-worthy work in "Away We Go." But that's likely to be perceived as a supporting performance, while the film still has no distributor.
But hey, that's just one category.  I could do this all day long all the way down the line (and probably will next week, since, you know, what else is there to talk about?).  It'd be preferable to let the pieces slide into place a bit first.
The problem is, until we get a look at three key releases — "Invictus," "The Lovely Bones" and "Nine" — we're dealing with the same landscape we have for almost a month, and will continue to chew on it for at least another.  And really, those films don't represent such a huge chunk of the predicted fallout of this awards season, after all.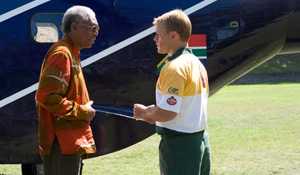 Anything in "Nine" being predicted in the crafts categories, for instance, is likely to be critic-proof, while "Invictus" is simply afforded a modest picture-director-lead-supporting quartet for the moment, slots with players on deck, more than willing to step in.
And, of course, I've been hesitant about "The Lovely Bones" as an Oscar prospect all year long and will continue to be until I see the film.
So perhaps at the end of the day, the season we have is indeed the one we're looking at now.  But it's folly to think that a detriment in October, because the race will not stagnate this early.  Studios have their ducks in a row and, as cautious as ever, they will now go about planning the sell.  This is when it gets exciting.
I now turn you over to our Contenders pages, which have been weeded a bit (and, as I mentioned over the weekend, are on the verge of being purged of distributor-less films).  We've also added a list of Documentary Feature contenders.
Additionally, the docs get their first round of predictions in the sidebar this week, as do the foreign language films.  The foreign submissions list is close to being wrapped up with 62 entries at the moment, but there will be stragglers.
Until next time…