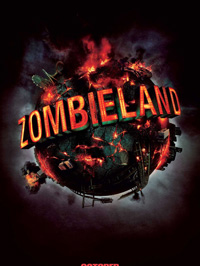 Fox may not be able to get teens excited about horror comedy but Sony sure can as "Zombieland" debuted with an impressive $25 million and the number one spot.The studio  makes a killing off these types of relatively low budget genre titles ("Obsessed", "Lakeview Terrace") and you have to hand it to the marketing department for turning yet another one into a winner. I mean, this is the studio that can get a film like "21" a $24 million opening weekend and that's pretty amazing.
Sony holds the runner-up spot as well with the animated hit "Cloudy With a Chance of Meatballs." Another slim drop, this time 33%, gave the film a $16.7 million weekend and $82.4 million in the books already. In a few weeks it'll become only the fifth film released in September this decade to cross $100 million joining illustrious company like "Sweet Home Alabama" and "Remember the Titans."
"Meatballs" was served a healthy dose of competition by Disney's 3D double feature of the first two "Toy Story" films. $12.5 million is pretty exceptional for films that are widely available on DVD and were never meant to be seen in 3D in the first place, so Disney can laugh all the way to the John Ratzenberg-voiced piggy bank.
Warner Bros. and Ricky Gervais exceeded mild expectations with "The Invention of Lying" by grossing $7.4 million and stealing fourth place. That's an improvement over the $5 million of "Ghost Town" and makes Greg Kinnear look like the box office poison in this equation. Gervais is crafting a pretty strange big screen career for himself and this result will help get his next milquetoast idea past the pitch stage.
"Whip It" and "Capitalism: A Love Story" battled it out for sixth place and ended in a virtual tie with $4.9 million each. Since "Capitalism" is on about half the screens, you can call its performance more impressive, but the truth is that neither did enough to really be called a hit. It's indicative of just how phenomenal Moore's previous films did at the box office that a nearly $5 million weekend for a documentary is considered a disappointment.
"Surrogates" and "Fame" dropped the requisite 50% each while "Pandorum" suffered worse and quickly exited the top 10. Nothing in the top 10 has been in theaters longer than 17 days.
In Oscar news, "A Serious Man" opened on six screens and grossed a healthy $251,000. That per-screen average is right in line with "No Country for Old Men," but behind the career high for the brothers set with "Raising Arizona." "Paranormal Activity" also held strong in its second weekend on only 33 screens and is turning into a successful little experiment from Paramount.
No movies for me this week, but I did get my tickets for "Michael Jackson's This is It" on opening night, baby!
There's only one new wide release next week as things get suspiciously quiet at the multiplex. Universal unleashes the date flick "Couples Retreat" and the dearth of other new product alone should guarantee at least $27 million, maybe $30 million if the buzz picks up between now and then.
What's your take on the lull and the films in release?  Here are the weekend's top domestic grossers, courtesy of Exhibitor Relations: