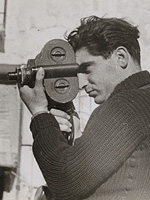 Director Michael Mann has been trying to get an adaptation of "For Whom the Bell Tolls" off the ground for a while now.  As far back as October 2006 (when I interviewed Mann for an Eric Roth profile), the film was mere days from being announced.
I'm not a sleuth like the Anne Thompsons or the Sharon Waxmans, so I don't know the specifics of why it hasn't happened.  I imagine it's budgeting concerns on some levely.
Anyway, it's been a shame not to see things come together on that front, but I'm glad Mann has found a nice outlet to get his Spanish Civil War groove on, and perhaps a better opportunity overall, with Columbia's acquisition of "Waiting for Robert Capa," a biography of the war photographer and Mann's next gig.
It seems almost too easy to cast Leonardo DiCaprio here, no?  (The actor's Appian Way offices are in the same Santa Monica complex as Mann's Forward Pass, and Mann, of course, produced and was once set to direct "The Aviator.")  Maybe he'll go a different route (though DiCaprio would be a no-brainer for "Bell"'s Robert Jordan).
Colin Farrell?  Probably not, since Farrell just finished a similar role in Danis Tanovic's "Triage." Russell Crowe? Perhaps, but he might seem a bit sanitized (Capa being an Italian and all).  Johnny Depp would be perfect, but if the rumors are true of the "Public Enemies" set, he and Mann aren't leaping at the opportunity to work together again.
To steer out of Mann's usual stable, Andy Garcia would have been a fine fit a few years ago.  Maybe he could still pull it off.  Michael Imperioli would be a nice choice.  And while both might be obvious calls aesthetically, I think it's safe to say both are capable actors.
I think John Ortiz would be a brave choice, but a Christian Bale-type is likely to nail it.  What do you think?
Related Posts