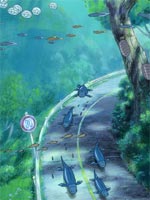 Okay, not quite the world, but a very small part of it. The small, picturesque Japanese fishing port that inspired the setting for Hayao Miyazaki's "Ponyo" has been spared a drastic redevelopment (a landfill and bridge were on the cards, apparently) thanks to the film itself. Variety reports:
Miyazaki conceived the idea for "Ponyo," which earned $170 million at the Japanese B.O. last year, in a two-month stay at Tomonoura port and his animators used it as a setting for the toon. It has since become a mecca for "Ponyo" fans, boosting revenues of local businesses.

The International Council on Monuments and Sites has named Tomonoura as an endangered historical area because of the project.
I have yet to see "Ponyo" for myself (thanks, sleepy Brit distributors), so I can't speak to its other virtues, but any film that keeps the world prettier is okay in my book.