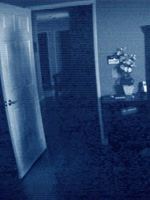 I finally got around to "Paranormal Activity" last night, which has been scaring audiences nationwide for about a week now.  The film sat on a shelf for two years, terrifying Steven Spielberg, awaiting a release of some sort, primed for a remake at one point, and finally made its way into the marketplace last week with an innovative, experimental distribution strategy.  All the inside baseball was covered well in this 9/20 John Horn piece in the Los Angeles Times.
I wasn't going to write about it.  It's certainly not an awards film, of course, but I just kind of wanted to have a good time at a midnight screening and let it be that.  But I was still wide awake at 3:45am last night, demanding my girlfriend to stay awake with me on Skype (which actually made things creepier given the cinematographic composition of a Skype video chat).
The film is repetitive on one hand, but that repetition lulls the viewer into a sense of foreboding that's hard to measure.  I'm interested in seeing the alternate endings, especially the original, which seems more in keeping with the film's insistence on a grounded scare.  But the Spielberg-suggested denouement (unfortunately featured in the trailer, leaving its truly jarring moment something to be anticipated rather than freshly experienced) is incredibly unsettling.
I wouldn't say filmmaker Oren Peli fully capitalized on the potential of his concept.  Like "The Blair Witch Project" (a film to which "Paranormal Activity" often finds itself compared), there are elements (specifically a moment involving a charred photograph) that feel forced and even betray a sense of anxiety on the part of the filmmakers (who do a remarkable job of letting practicality serve as visceral terrorist for the most part).  But for $20,000, it's an impressive accomplishment all around.  And it got me thinking on the genre.
We put together a list of the 20 greatest horror films of all time around this time last year.  It's the only collective list we've done here at In Contention (as in, the only list built on the collective opinion of all our contributors), which is interesting when you consider how subjective horror is.
Horror movies are a strange bird for me.  I don't obsessively devour the genre looking for a good scare because the fact remains a "good scare" is perhaps the most personal element of filmed entertainment there is.  It's why pegging a universally accepted "scariest movie ever" can be such a chore because, in a more specific nature than anything else, different things do it for different folks.
"The Exorcist" is generally high on these lists (and certainly rests at the top of mine), but still, it's not difficult to find people who think that film a laughable entry.  "The Shining" is also up there for me, largely for the atmosphere it conjures, while I'll freely admit there are elements of the considerably lesser "Event Horizon" and "Candyman" that have tickled my scarybone.
Other films don't really do it for me like they do others.  I felt the aforementioned "The Blair Witch Project" was infuriatingly beside-the-point upon exiting a screening in 1999.  "Rosemary's Baby" is fine, acute filmmaking, but it doesn't conjure the anxious cold sweat of the best horror for me.
Cronenberg horror also doesn't hit my scare button.  There are certainly some viscerally gripping elements in "The Fly," "Videodrome" and "Scanners," and I haven't yet seen "The Brood" (I should), but I'm generally more interested in the ideas of Cronenberg's films than the way they might capitalize on my fears.
I was always a bit unsettled by the matter-of-fact violence of "The Texas Chainsaw Massacre," still a top-tier horror film in my book, and there are elements of "Jacob's Ladder" and "The Ring" that were undeniable, but nothing has ever been as complete as it could.
And finally, "The Descent," which works, and when it's clicking it's clicking, knowing exactly how to use the frame for the maximum emotional reaction.  But the horrific elements of that film are somewhat contained and don't penetrate the entirety of the piece, which is what "Paranormal Activity" does incredibly well.  As you're preparing yourself for the inevitable scare, you find yourself anxious along the way, making that final moment all the more affecting.
The only film that could potentially hit me just right is "[REC]," which I've yet to see (nor have I seen the remake, "Quarantine," and I probably won't).  But on the whole, the point I'm trying to make is that, if you ask another guy, you'll probably come across a different slew of titles that provide the ultimate scare.
Horror is the most personal of genres, which is kind of what makes it beautiful.  I just long for another film to come along as a nearly universally agreed-upon scare fest.  I don't think "Paranormal Activity" is that film (after all, one of the first comments I overheard last night was, "That was one of the stupidest movies I've seen"), but I sense that whatever I'm looking for might be on the horizon.
Or have we come to a point where horror is rendered almost moot?  Are we so desensitized that an "Exorcist" experience isn't likely to hit us socially ever again?  God I hope not.