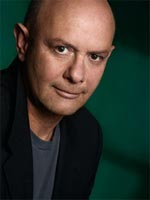 Amid the swirl of hype for "An Education" that's been building for eight months now, there's been surprisingly little mention of the man who is easily the biggest name involved with the film: superstar novelist Nick Hornby, whose free adaptation of Lynn Barber's memoir looks certain to land him in the Best Adapted Screenplay pack.
The film is only Hornby's second successful stab at writing for film, 12 years after he adapted his own novel "Fever Pitch" for the screen. However, as he states in this Wall Street Journal interview, the gap between screen credits wasn't for lack of trying:
While several of his novels have been successfully adapted into movies, including "High Fidelity" and "About a Boy," the 52-year-old Mr. Hornby has seen most of his screenplays fizzle in development, including a collaboration with actress Emma Thompson that "we just couldn't get right."
He continues:
The novelist says that, format aside, writing for the screen wasn't that different. "This story of a smart girl who's frightened of missing out on life, in some ways, is the story of my first book," he says. Published in 1992, "Fever Pitch" was an autobiographical story about purging childhood anxieties through an obsession with the Arsenal soccer team.
What the article doesn't mention is what an interesting, and rather unlikely, candidate Hornby was for the project in the first place. Hornby's bestselling fiction tends to deal with male anxieties in contemporary Britain, generally via neurotic, blokey alter-egos such as those embodied on screen by Hugh Grant and John Cusack in "About a Boy" and the Americanized "High Fidelity, rrespectively.
So he's not the first person most would think of to adapt a delicate girl's coming-of-age story. (Luckily for him, his wife, Amanda Posey, is the film's producer.) But the match-up works beautifully: not just because Hornby brings the same level of wry sociological detail (and adoration for London) that characterizes his prose, but because his understanding of the male psyche make Alfred Molina's weary dad and Peter Sarsgaard's charismatic wideboy far richer foils for Carey Mulligan's protagonist than they are in Barber's original memoir.
In the interview, he explains that upping the charm of Sarsgaard's character was a deliberate move to dodge the "problem of exploitation" inherent in the sizable age gap between the characters. Speaking of age, he also admits to initially being opposed to the casting of Mulligan: believing the actress to be too old for the role, he feared she would "wreck the whole film."
Suffice to say he's okay with how things turned out.