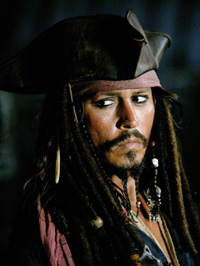 What constitutes a great performance?  What makes it something that puts it head and shoulders above the rest?  What does an artist do to go to that level of art and achieve something that is both extraordinary and rare?
Does the Academy, or rather the branch that nominates the actors, look as closely at performance as critics do?  Is a performance considered great because it is an Oscar-winning piece of acting or nominated for one of the acting prizes?
An actor reads a script and likes both the character he or she is being offered and the story on the page. The actor accepts, and begins (we hope) work on the character.  A year or so later, after shooting and cutting the film, on the screen in front of us the actor's work will be seen and judged, commented on, praised, perhaps showered with accolades or negative comments, perhaps winning an Oscar or a Razzie, maybe becoming discussed for years to come, or forgotten moments after seeing it.
I doubt, seriously, that an actor accepts a role with any of that in mind. Perhaps I am overly idealistic, but I hope actors accept roles because they are trying (always) to evolve as an artist, to discover something different in their acting and themselves, and to do something they have never done before. Of the many actors I have interviewed over the years, most of them take a role based on something that speaks to them in the screenplay.
Meryl Streep once told that me she seeks something that "touches my soul" while Robert Duvall looks for a character that is "real, something that will challenge me, but he has to be real." Tom Cruise said he "likes to try different things each time out, and hopes he does the part justice", while Hilary Swank looks "for something that speaks to me, as though the character were whispering to me."
Others take the part for the challenge of playing such a role, such as Kevin Bacon in "The Woodsman," in which he portrayed a pedophile trying to re-adjust to society again. He felt the film and the role important, and as an actor he could not deny the challenge, but as a father, he struggled with the role.  Jim Carrey wanted to play Andy Kaufman because he felt it would offer him an enormous chance to grow as an actor, to go places he had never gone before and to slip into a different skin.
What we see on screen is the creation of the actor and the director, though most directors hire actors and then back off, allowing the performer to do his or her job. Clint Eastwood is famous for hiring them and then pretty much leaving them alone. Steven Soderbergh does the same thing, stating "I hired them to do what they do."
Atom Egoyan has an interesting take being married to an actress, Arsinee Khanjian: "They are different people than the rest of us.  They make their living being other people, becoming other people, often very different from who they are. They fascinate me. It is something I cannot do, and frankly very few people can. I love watching the process of actors creating."
As do I.
Having studied to be an actor in another life, I have always been fascinated with the art and process of the craft. Performance has always been what I have watched first in a film, and I never tire of watching actors do their thing. Nothing gives me greater pleasure than seeing something extraordinary from an actor.
Take Mo'Nique in "Precious," who was simply astounding. Her character was so full of toxic rage and hate she could barely move across a room without striking out at someone. What she captured was what I most appreciate in a performance…the truth. There was absolute truth in her work, and the rest of the cast for that matter, and I emerged from that film galvanized in some way I do not yet understand.
What is the truth in a performance?  For me, it is the actor inhabiting the role in such a complete manner that we forget we are watching a film. It is every piece of dialogue being spoken as though it was being said for the first time, each reaction honest and true, the actor perfectly in sync with the movement of his or her character and connecting with the other actors in the work. It is believing that we are seeing the events in the film unfold in front of us as though we were spying on real events in life.
It is finding the absolute truth of the character, discovering for a few moments their soul and exposing that soul to us through their art. Of course, in revealing part of the character they are also revealing a part of themselves, because there is no single performance that does not contain at least a small part of the actor.
Some performances are so real we can all but smell them. The character has a previous life which we understand through the performance, and we often know how they have gotten to this point in their lives, or that is the subject of the film. They bring to their work the weight of that previous life, the pain, the joy, whatever it might be, and we believe because they do.
It is being part of the performance by seeing it, the final part of the process, when the actor is at his or her most vulnerable because this is when judgment comes. Some no longer read reviews because they find them hurtful, while others are interested in what is being said.
As I've noted before, nothing gives me a greater rush as a critic than seeing a startling performance, something that transcends everything the actor has previously done, or that comes from a place deep inside them to astonish and surprise us: Julia Roberts in "Erin Brockovich," Drew Barrymore in "Grey Gardens," etc.  Barrymore, by the way, lost the Emmy last week, which was shameful, but is now regarded with a different eye as an actress.
The giants of acting — Brando, Fonda, Nicholson, Hackman, Streep, Hoffman, De Niro, Pacino, Hoffman, Freeman, Hanks and so many others — do great work often because they throw themselves into their work and create art because they love doing it. They take risks, that sometimes pay off, and other times do not.
Jack Nicholson gave a wildly courageous performance in "The Departed" that I loved, others did not, but in true artist form it was different than anything he had done before and worked for the film. Streep actually runs into trouble sometimes because she is never less than brilliant it seems each time out. She puts so much time and thought into her work, and then disappears in front of our eyes. The trick is of course never letting the work be seen, for it to appear effortless, and that is what a great artist does.
They say that great actors are born in the theater, which I think is utter rubbish. Film acting is done out of sequence, making the actor's job doubly difficult.  One must know the character inside out, or look like a fool.
It was once believed that Sir Laurence Olivier was the greatest actor in movies, which I always believed to be a load of bunk. If anything, Olivier was the most over-appreciated and over-praised actor working in movies. You could always see the technique, the actor at work, there was little that was natural in his work. His best screen performances was in "Marathon Man," in which he portrayed a vicious Nazi dentist, and "The Entertainer," as a vain, obnoxious song and dance man, but little else of his screen work is worth seeing.
The emergence of Marlon Brando and realist acting ended all that. It was long believed in theater circles that to act Shakespeare was to be among the elite, but the role of Willy Loman in "Death of a Salesman" of Blanche Du Bois in "A Streectcar Named Desire" offer an actor an equal challenge of anything written by Shakespeare. Mastering the language can be difficult but once into the rhythms and the understanding of what is being said, much of the challenge is gone.
When Johnny Depp received the screenplay for "Pirates of the Caribbean," there was nothing in the work that stated he would portray Captain Jack Sparrow in the goofy, extreme manner that he did. That was all Depp, and it was all art. It was brilliant because he found the truth of his character in a screenplay that was hardly "Chinatown." Depp found something wildly original in his character and the director had the courage to allow him to go for it. The performance is one of the best of Depp's career.
At the end of the day, great acting allows us to see life unfolding on the screen as though it were happening in front of us. If there is a hint of performance, it is not top tier.  For the most part through the history of the Academy, the nominated performances have been excellent choices, with some genuine surprises that deserved nominations we did not think were forthcoming.
I remember jumping for joy when Edward Norton was nominated for "American History X" as he had not been on the radar, and equally shocked when Art Carney won the award in 1974.
Daniel Day-Lewis in "There Will Be Blood," Meryl Streep in "Sophie's Choice," Jack Nicholson in "One Flew Over the Cuckoo's Nest" or Charlie Chaplin in "City Lights," all are great performances because they are real.  Each actor found his or her character's soul.
What is great acting to you?