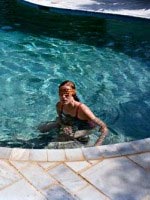 Among the films squeezing in under yesterday 's foreign-language submission deadline were two pretty major titles, both boasting hefty festival hardware — not that that makes them strong Oscar possibilities by any means.
As we suspected, Greece (not nominated in the category since 1977) did indeed submit Yorgos Lanthiomos's surreal family drama "Dogtooth," which won the Un Certain Regard prize at Cannes, and recently played at Toronto. The film is gradually acquiring an ardent critical following, chief champion of which is James Rocchi, who suggests it is the year's best so far:
"Dogtooth" speaks to Greek history, to be sure, but it also works as a universal fable about the blunt mechanics — and bizarre appeal — of dictatorship … "Dogtooth" is funny and then terrifying and, somehow, both at the same time. Haunting, bold and truly cinematic in its ambitions, expressions and convictions, "Dogtooth" might be the best film I've seen all year — and, somehow, it got even deeper and more disturbing on the second viewing.
The briefest reading of a synopsis for the film — about three children cut off from the outside world by their parents, with increasingly twisted consequences — will tell you that "Dogtooth" is likely miles from the Academy's comfort zone, though I can't wait to see it at the London Film Festival.
Another title I'll be catching up with at the fest is this year's Berlin Golden Bear winner, Claudia Llosa's "The Milk of Sorrow," which was entered into the race yesterday by Peru, a country still seeking its first nomination. A very serious-minded effort about the trauma suffered by the child of a rape, it provoked mixed reactions at Berlin in February — the Hollywood Reporter declared it "deliberately paced but beautiful", while Screen International found it "too contrived in the long run."
With time, the film seems to be falling more on the positive side of the critical divide, but I suspect its solemn tone — and the key story element of a young woman inserting a potato in her intimate regions — may prove offputting to the Academy.
Finally, Georgia (a surprise nominee in 1996 for "A Chef in Love") has entered "The Other Bank," a war drama about a young boy seeking his father behind enemy lines in Abkhazia, that sounds to me like it may be to the Academy's taste. Or perhaps not — Variety's generally admiring review suggests it lacks Academy-friendly emotiveness:
Showcasing impressive perfs from nonpro thesps, especially young Tedo Bekhauri as the lead, "Bank" wisely invests in unobtrusive naturalism and powerful but unsentimental storytelling that should ensure further fest play. That said, the pic doesn't quite pack an emotive enough punch to woo (or wow) auds much beyond Georgian and Russian arthouses.
The film's rather elaborate website is here. As always, your international perspectives are valued.