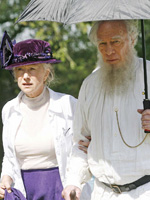 A few days ago there were whispers on the winds that "The Last Station" had been picked up by a specialty division with a number of art house releases primed for the season.  All signs pointed to Sony Pictures Classics.
Today we get a confirmation (and I've independently verified) that, indeed, the film is a new awards hopeful in the Sony Classics stable.  This has been the natural fit, in my view, since I saw the film at Telluride.
So, expect lead acting campaigns for Christopher Plummer and Helen Mirren, the latter being a definite possibility.  Also, I'm sure supporting campaigns for James McAvoy and Paul Giamatti will be in store, odds on the former more than the latter.
And cngrats to Michael Hoffman for finding a home for his film, a tight, warm, well-made piece of work that deserves a look if only to see these wonderful actors working off of one another.
Thge film will hit theaters in limited release on December 23.