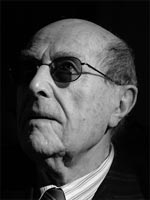 Throughout this week, I've been attending advance press screenings for the upcoming London Film Festival — a handy bonus the organizers provide to give journalists some breathing room when the fest actually begins.
I'll get to writing up the films once festival business actually begins on the 14th, but after watching "Eccentricities of a Blonde Haired Girl," the latest from Portuguese veteran (and I mean veteran) Manoel de Oliveira, I felt compelled to mention my sheer astonishment at the man's achievement.
The film itself — which went down well recently at the NYFF, if indieWIRE's critics' poll is any indication — is a beguiling curio, but the real story here is that de Oliveira, who made his first feature in 1942, will be 101 years old in December.
100 years old, folks. And he's busy working on his next feature as we speak.  That someone is out there making films at all at his age is laudable enough. That he's making good ones is nothing short of heroic. Has any other filmmaker stayed active that long? Is this a record? Any helpful geeks out there with the numbers to hand?