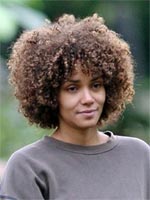 Poor Halle Berry has become something of a communal punchbag in recent years among critics seeking examples of the age-old post-Oscar curse; with every disappointing film she makes, the comments about her career (and even her winning performance) get progressively snarkier.
Look no further than this rather odd (and somewhat out-of-nowhere) piece in today's Guardian — in which Benjamin Lee makes the curious claim that it is color-blind casting (which others might see as progress of a sort) that has sunk Berry's career following her Oscar win.
Lee's argument essentially boils down to this: non-white actresses are better off sticking to roles (such as Berry's breakthrough parts in "Monster's Ball" or the TV film "Introducing Dorothy Dandridge") that are dependent on their race.
The roles that Berry got after her Oscar launched her into the A-league — in other words, the ones that any top Hollywood actress of any color could have played — haven't brought out her strengths, he argues, though its difficult to see what any actress could do with projects as wretched as "Catwoman" or "Perfect Stranger." (Meanwhile, Lee conveniently ignores her perfectly respectable work in "Things We Lost in the Fire," in which her race was not a factor.)
Color-blind casting hardly seems the problem to me. A number of factors are responsible for Berry's career slide, beginning her own poor script choices and, I would venture, a measure of persistent racial bias in the industry. Moreover, Berry isn't self-sufficient enough an actress to make lemonade from lemons; she's generally only as good as the director or writer guiding her, so when the A-list collaborators dry up, she's left a little rudderless.
Anyway, Lee then looks ahead to Berry's forthcoming racially-charged role in mental-illness drama "Frankie & Alice" — which has been on our contenders radar for ages, but lacks a distributor (and looks unlikely to get one any time this year). He jibes:
Berry's new film finally brings race back in the picture, albeit in a wildly improbable way. Frankie and Alice will see her play a woman with a racist alter-personality. The plot possibilities boggle my mind: will we see her burning crosses on her parents' lawn? Or having heated arguments with her reflection?

The movie is still, perhaps understandably, on account of that plot, struggling for distribution, and quite what it will do for her career other than continue to rip it into tiny, embarrassing pieces, is beyond me. Berry's strategy to deal with the severe lack of non-cliched roles for black actresses has backfired, to put it mildly, and the oddly appropriate battle that will play out in Frankie and Alice may prove rather cathartic.
Perhaps. Still, given that the film comes from the director of "Stormbreaker" and the writer of "Save the Last Dance," any potential comeback for Berry might have to be made on her own two feet. Good luck to her.