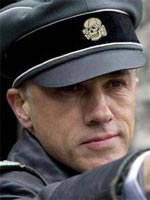 A while back, certain folks were (rather unfairly) dredging up the routine annual complaint about the supposed scarcity of viable Best Actress contenders. Dave Karger, however, has located the real weak spot of this year's awards race, and it concerns the opposite sex for a change: where, he asks, are the Best Supporting Actor standouts?
Pound for pound, I tend to find Best Supporting Actor the least compelling of the acting races, a haven for affectionately regarded stalwarts in bit parts that are frequently less than challenging. The last two years have raised the bar considerably, but recent wins for Morgan Freeman, Alan Arkin and Michael Caine are typical of the laziness with which the Academy often treats the category.
Even by the category's usual standards, however, this year's pickings look unusually lean, as Karger narrows the serious contenders so far to a scant three.
As he puts it:
Inglourious Basterds breakout Christoph Waltz became an instant frontrunner at Cannes, and Alfred Molina is a decent bet for his first career nod as An Education's strict dad. Ditto Stanley Tucci, who should score either for his killer role (literally) in The Lovely Bones or as Meryl Streep's hubby in Julie & Julia. And…well, that's basically it.
Is one of those men our winner? I'm liking Waltz's chances more and more as the months go by, particularly given the Academy's recent inclination towards more showy villainous turns in the category. Indeed, I'm starting to wonder if his awards trajectory could resemble that of last year's supporting winner (and fellow Weinstein Company pony) Penelope Cruz: installed as a frontrunner at Cannes, and hardly unseated (barring that brief Kate Winslet category confusion) from then on, as critic after critic played ball.
Of course, it's early days yet, and the supporting categories are more prone to late-breaking frontrunners than the leads. If Alec Baldwin really is a comic standout in "It's Complicated," might the Academy want to rubber-stamp his amazing career reinvention? If Stanley Tucci wrings every creepy note out of his "Lovely Bones" role (one that's a little one-dimensional in the novel), could he finally be due for a career trophy? (Somehow his role in "Julie & Julia" doesn't have a winning ring to it, though I can envision a nomination quite easily.)
Some might place their bets on Matt Damon for "Invictus," in the event of his lead chances for "The Informant!" going quiet — though from a reading of the "Invictus" script, the role of Francois Pienaar offers him little of the latter role's scope or invention. Karger also throws Anthony Mackie ("The Hurt Locker"), Paul Schneider ("Bright Star") and George Clooney ("The Men Who Stare at Goats") into the pot — plausible nominees, all three, but unlikely winners, to say the least.
Is it time to look further afield? Michael Fassbender is riveting in "Fish Tank," and it's only a matter of time before his career shoots into the A-league … but who'll see the film? Can anyone stay awake through Apparition's "The Young Victoria" for long enough to notice Rupert Friend's film-stealing effort? And what the hell is going on with "Me and Orson Welles," which first attracted Oscar buzz for Christian McKay over a year ago?
Any ideas?