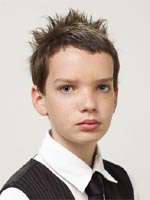 Word just in from Overture Films that Kodi Smit-McPhee ("The Road"), Richard Jenkins (Oscar-nominated this year for "The Visitor") and Chloe Moretz (I profess ignorance) are to headline "Let Me In," the forthcoming and unwelcome (in these parts, anyway) U.S. remake of last year's arthouse sensation "Let the Right One In."
The presence of Jenkins adds a sheen of respectability, I suppose. (After the sterling work Overture did in securing him that unlikely Oscar nod, perhaps he owes them one.) As for McPhee, the jury's still out: I was thoroughly unmoved by his work in "The Road," but perhaps he has something.
The press release, in part, after the cut.
Kodi Smit-McPhee, Chloe Moretz and Oscar®-nominee Richard Jenkins will headline the cast of Let Me In, Matt Reeves' adaptation of Let the Right One In, when principal photography begins this fall in New Mexico. The announcement was made today by Hammer Films Co-CEO's Simon Oakes and Nigel Sinclair, as well as Overture Films CEO Chris McGurk and COO Danny Rosett.

Director Reeves (Cloverfield) has cast Smit-McPhee (The Road) and Moretz ((500) Days of Summer) in the two lead adolescent roles of Owen and Abby for the eagerly awaited horror feature. Jenkins will play the lead adult character known as Hakan in the original film.

"Kodi, Chloe, and Richard are my absolute dream cast," says Reeves. "I couldn't be more excited to be working with them."