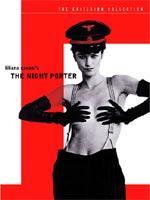 I'm glad to see that, whatever the eventual awards fate of "Bright Star," Jane Campion is by and large back in the critics' good books. As one of those who feels she's never really made a bad film — simply some more completely realized than others — it's a case of reputation rehab being both overdue and unnecessary, if that makes any sense.
The Criterion Collection, however, always had her back, adding her to their list in 2005 with her 1991 literary biopic "An Angel at My Table," with her debut "Sweetie" joining it later. (You might be surprised to learn that her signature film "The Piano" still isn't in the collection.)
Anyway, at the time, Criterion asked Campion to name nine films from their collection that she holds in highest esteem, and the results make for predictably interesting reading. It doesn't take a psychic to figure out that the erotic transgressions of "The Night Porter" float her boat, but the inclusion of say, Milos Forman's wonderful "The Firemen's Ball," is less self-evident and no less pleasing.
Meanwhile, she has a healthy regard for consensus classics, with Kurosawa, Fellini, Bergman and Ozu all making appearances. What I liked most, however, was her brief tribute to Buñuel in her selection of "That Obscure Object of Desire" (the the title from his oeuvre I'd have picked for her):
Buñuel is my first deep love in cinema. He is the adult that pulled the plug on the human art of pretending. He blazes through the hypocrisy at the heart of our bourgeois lives mercilessly—no one is sacred, no ideal or moral is spared. He is perfectly modern, bold, and clear. I found myself laughing in joy and amazement. He understands human nature while refusing to sentimentalize it.
More here.