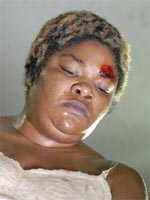 Well, this is unpleasant. I don't know whether gossipmonger Roger Friedman has it in for presumed Best Supporting Actress frontrunner Mo'Nique or not, but this attack on her professional behavior in regard to publicizing "Precious" strikes me as distinctly unnecessary.
According to Friedman, the actress has been cagey about doing press for the film, not appearing at the Cannes, Toronto or New York festival premieres of the film — apparently due other professional commitments. Friedman isn't impressed:
I did tell you that Mo'Nique has gotten herself a reputation for demanding money for showing up to promote "Precious." It's a first in Oscar history.

Last week I spoke to one of her representatives, who said, "It's just supporting actress. It's not lead, is it?" What the heck! It would be nice if someone close to Mo'Nique will explain her behavior soon. Otherwise, her "cinch" Oscar is about to fade away. "Precious" will go on and be just fine without Mo'Nique.
Seriously, true or not, who cares? The performance is what counts, and I have yet to hear anyone suggest she isn't deserving. This recalls nothing so much as Tom O'Neil's bizarre attempt to derail Melissa Leo's Oscar campaign last year with skewed reports of on-set tantrums. Didn't work then. Won't work now.
Friedman then rather dubiously goes on to lobby for Mariah Carey's "extraordinary" performance instead. Sure, Carey's work has been surprisingly well-received, but we're talking different stratospheres of critical praise here. (Anyway, thanks to Vulture for pointing out the value of that particular endorsement.)