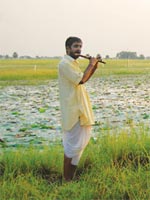 Though that number will probably be out of date the second I post this, such is the crush of films squeezing in before the deadline these last few days.
Any, the latest trio of contenders come from minor national film industries all seeking their first nomination in the category: Estonia, Bangladesh and Indonesia.
Estonia's entry, "December Heat," follows in the category's grand tradition of sweeping historical drama, detailing Communist Russia's failed takeover of the country in 1924 and the establishment of Estonian independence. It has apparently been a massive hit at home; The Economist labels it "lively if rather melodramatic." I'd like the country's chances more if only the film were about WWII.
The Bangladeshi entry, "Beyond the Circle," recently played at Toronto to a muted reception; the film, a fable of sorts about a naive rural musician corrupted by a big-city arts patron, has been criticized for heavy-handedness from several quarters, though indie WIRE's Michael Koresky describes it as "immensely appealing [and] visually lyrical." We're unlikely to see it in play, but it's always nice to see smaller nations in the hunt.
Finally, Indonesia has submitted "Jamila and the President," a socially conscious drama about a prostitute condemned to death for killing a high-ranking government minister. Beyond that, I'm unable to find much critical word on the film … as always, feel free to chime in with your own takes on the films in play.
Keep up with our growing list of submissions here.