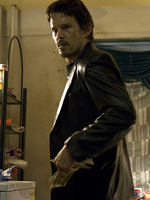 I just noticed the fine print on an invite today that stated "Brooklyn's Finest," recently acquired by Overture Films after Senator Entertainment had to give it up, has been slated for a Spring 2010 release.
The film first landed at Sundance and had its champions there.  In particular, I've been hearing a lead actor push for Ethan Hawke was in the cards and many thought he had a fighting chance.  Of course, that category has filled up considerably in recent weeks so maybe it's wise to get out of dodge.
Last year Overture did just fine with an April release for "The Visitor," landing a Best Actor nomination for Richard Jenkins and sustaining the conversation throughout the year.  Maybe a similar strategy will be deployed for Hawke in Antoine Fuqua's film.