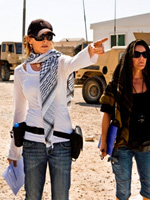 The awards keep coming for "The Hurt Locker" director Kathryn Bigelow, who is already set to be feted at the Gotham Independent Film Awards.  As her film's star Jeremy Renner takes down the Breakthrough Actor award at the upcoming Hollywood Film Festival, Bigelow herself will receive the Hollywood Director Award, fest director Carlos de Abreu announced today.
Elsewhere, Nora Ephron, whose "Julie & Julia" screenplay really did wonders with a troublesome book, will be honored with the Hollywood Screenwriter Award, while "Up" will received the Hollywood Animation Award.
The Hollywood Visual Effects Award will go to Scott Farrar, visual effects supervisor for "Transformers: Revenge of the Fallen."
The awards are set to take place on October 26 in Beverly Hills, but the most significant tip of the hat here is obviously Bigelow.  Is there any real doubt that the Academy would be really stretching to go against the grain if they didn't acknowledge her work on "The Hurt Locker?" Anything can happen, but I'd be shocked if members missed this opportunity.
Full list of announced Hollywood fest honorees after the jump.
Hollywood Director Award: Kathryn Bigelow, "The Hurt Locker"
Hollywood Screenwriter Award: Nora Ephron, "Julie & Julia"
Hollywood Breakthrough Actor Award: Jeremy Renner, "The Hurt Locker"
Hollywood Breakthrough Actress Award: Carey Mulligan, "An Education"
Hollywood Breakthrough Screenwriter Award: Scott Neustadter, Michael H. Weber, "(500) Days of Summer"
Hollywood Animation Award: "Up"
Hollywood Visual Effects Award: Scott Farrar, "Transformers: Revenge of the Fallen"
New Hollywood Award: Gabourey Sidibe, "Precious"