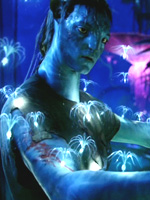 Okay, let me first connect the dots on how I came to this nugget: Le Film via /Film via MTV.  Now that that's out of the way…
It goes without saying there will be a lot of people looking at the bottom line on "Avatar," so any talk of a sequel is obviously silly until the film proves itself a success, which is what producer Jon Landau is getting at at the beginning of the following quote:
If the public likes Avatar, it's a possibility. After all, here we are exploring the surface of the planet Pandora. The interior remains to be seen.
But now that it's out there, clearly there seems to be more to this world than what Cameron ultimately put up on the screen.  His initial treatment was pretty massive, after all.  Who knows what he had to exclude?  But I've been getting the vibe for a while now that vested interests would love to sequel-ize this thing.  There are already toy tie-ins and a video game on the way, the obvious harbingers of a new franchise.
Anyway, we'll keep an eye on it.