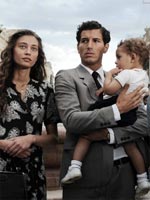 As the deadline for Best Foreign Language Film submissions looms on October 1, news of further entries keeps rolling in. Italy, Vietnam and Norway are the latest additions to the list, which presently numbers 54. (By my count, at least.)
Italy's selection is obviously the newsiest: the country's 13 previous wins make it the leading Oscar champ in this category (though France still holds the record for nominations by a sizable margin). They've rather lost their golden touch of late, however, scoring only a solitary nom ("Don't Tell," 2005) since "Life is Beautiful" won over a decade ago, and I'm not sure they've made the wisest choice to reverse that state of affairs this year.
On paper, their pick of Giuseppe Tornatore's "Baaria" may seem like an Oscar slam-dunk. It's a lavish, decades-spanning period drama from an Academy-favored filmmaker — Tornatore won for "Cinema Paradiso" in 1989, scored a further nod for "The Star Maker" in 1995 and made the 9-film shortlist with "The Unknown Woman" two years ago.
Which is all well and good, except that "Baaria" was critically slaughtered when it opened the Venice Film Festival last month. Clearly, the massive budget of Tornatore's film factored into the decision. I never got to see it myself, but Variety's pan ("overblown in every sense … awash in phony nostalgia (and) cheap sentimentalism") was typical of the consensus.
That said, the Academy often disregards critical opinion in this category, while "phony nostalgia" and "cheap sentimentalism" have frequently proved to be right up this branch's alley in the past. So it might be a cynical move on the Italian selectors' part, after being disappointed with last year's considerably edgier, critically endorsed selection, Matteo Garrone's "Gomorrah." We'll see.
They certainly didn't lack for more credible options. I'm astonished that Marco Bellocchio's historical biopic "Vincere," which drew considerable acclaim at Cannes in May and even attracted dark-horse Oscar talk for leading lady Giovanna Mezzogiorno, wasn't picked. I was predicting a nomination for it; we could have been looking at a winner there.
Even in Venice, there were stronger local players. I wasn't the greatest fan of Luca Guadagnino's operatic family drama "I Am Love," but many critics were enamored of it, while its powerhouse lead turn by Tilda Swinton could have given it a leg up in the race. And Giuseppe Capotondi's smart, well-received thriller "The Double Hour," which won a surprise Best Actress award for Ksenia Rappoport, would have been a rather cool selection.
So many opportunities missed in favor of the familiar. Oh well. (UPDATE: Clearly, the decision is not a popular one at all.)
Meanwhile, Norway has entered "Max Manus: Man of War," an epic biopic of the eponymous Norwegian resistance fighter in the Second World War which has broken local box-office records, seems to have all the ingredients the Academy likes in this category — principally, the Second World War. Well-reviewed upon its UK release a few months ago (I confess I skipped it), this could really be one to watch.
Finally, Vietnam has gone with "Don't Burn," a title I'm struggling tgo find much information on. Any local knowledge from our readers is, as ever, most welcome.