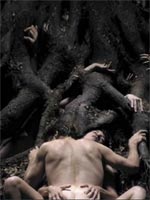 As we've seen from the wildly varied poster designs for the film, "Antichrist" offers it marketers an unusual range of options. Depending on the region, it's being sold as a stern art film, a jokey provocation, a horror scream-fest or a mixture of all three.
We have yet to see how the film performs Stateside, but my eye was caught by an article in this month's Sight & Sound magazine, in which box-office analyst Charles Gant looks into the successful approach taken by UK distributor Artificial Eye.
Though it is the country's most highbrow art house outfit ("The Class" and "Fish Tank" are among the other titles they handled this year), Artificial Eye made the unusual decision to sell the film on its genre elements, playing up its more horror-inspired imagery and emphasizing the various "MOST SHOCKING EVER" critical tags that emerged from Cannes.
It was a slightly dishonest approach to a film that isn't an all-out horror effort by any means (and is far less outrageous than the media would have you believe), but Gant finds that it paid off handsomely:
Artificial Eye faced a clear choice: sell the elements to the company's traditional arthouse audience, or pitch it in a way that also chased after more mainstream film fans attracted by the transgressive horror content. It chose the latter course, with a disturbing shot of copulation in the forest as the main marketing image, and was rewarded with an opening weekend of £99,000 [$158,000], the biggest ever for a von Trier film in the UK.
The article continues:
"We had a furious debate within the company about whether this was the right or wrong thing to do," says [Artificial Eye chief Richard] Napper. "How we pitched this campaign probably sacrificed some of the arthouse audience. But this is the first Artificial Eye film that's taken as much in mainstream as independent cinemas. It's a breakthrough title for our company."
Napper continues that they plan to "sell it as a horror title on DVD … where we are hopefully going to get our money back for the acquisition cost." It may work. An odd aura has built up around "Antichrist," principally through a Chinese-whispers-style exaggeration of that clitoridectomy scene (again, briefer and less lurid than has been publicized), which seems to have made a number of people afraid to see the film. (I've certainly seen several comments on this site to that effect.)
Perhaps it won't seem quite as intimidating a prospect on a small screen, or perhaps the "are you brave enough to see 'Antichrist?'" angle can be worked into a successful DVD marketing campaign. Either way, the crafty obscuring of what the film really is — a hard domestic drama layered with some playful (if unpleasant) horror-cinema tropes — continues apace.