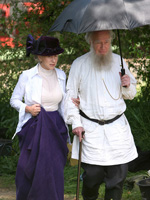 Obviously the only thing Pete Hammond can mean when he writes the following:
Helen Mirren, Christopher Plummer, James McAvoy and Paul Giamatti are going to try to shake up the awards season. Look for their new film, "The Last Station" — written and directed by Michael Hoffman and based on the final months in the life of Leo Tolstoy, which premiered sans distribution at the Telluride Film Festival on Sept. 4 — to be released by the specialty division of a major studio (with a slew of other art house contenders already this year including three more Best Actress possibilities) and opened in December in order to qualify for the Academy Awards.
…is that Sony Pictures Classics is moving in for the kill here.  No other specialty division has a "slew" of titles, let alone a "slew of other art house contenders," so it's probably a safe assumption that Michael Barker and Tom Bernard made the leap.
And it fits.  Bernard was curious what people thought of the film in Telluride, and he told me, "We might buy it," at the time.  That's obviously neither here nor there, but I got the vibe — and I certainly wasn't alone here — that Sony Classics would make a nice home for the film.
I wasn't a massive admirer of "The Last Station," though the film was something of a darling at Telluride (where it had its world premiere).  It was certainly enjoyable and has some potential as an awards player, but it's small.  And I wasn't entirely sold on Christopher Plummer's lead actor prospects (though certainly, if the film is picked up, Helen Mirren is a lead actress threat and a half).  James McAvoy is quite good in his usual leading supporting spot.
Then again, I've also been saying that Sony Classics could use a Best Actor contender, and with "Get Low" looking like a 2010 race, there is room for Plummer.  Maybe yet…
Again, this is all idle speculation since Hammond is playing coy but really, what else could it be?  We'll address things further once an official announcement drops.