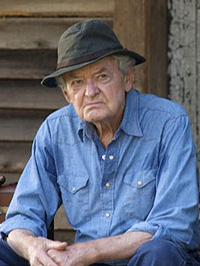 It suddenly occurred to me when I got a screening invite last week to "That Evening Sun," a potential awards prospect for lead actor Hal Holbrook, that the film actually had a distributor: Freestyle Releasing.
Freestyle is a boutique company that doesn't have a lot on deck, but it reminded me of how spread out this year's product seems to be across the spectrum of Hollywood distribution, and one more indication of 2009 as perhaps the year of the underdog.
It's a generalization, sure, but when heading into the season the frontrunners of the race are a modest character-driven dramedy and an impassioned work of indie art, I think it's safe to say the trains that could are drawing a line in the sand.
I recognize the former is a studio-funded piece with one of the industry's biggest stars in a leading role, but it fits because, like the director's last film, it was a discovery even to the studio, one that can suddenly be groomed for awards.
This idea of eschewing the titans of an awards season could be stretching into the business of things as companies like Overture Films, Summit Entertainment, Apparition, Paladin, Monterey Media, Freestyle, etc. are beginning to claim significant portions of the consideration pie…at least in this calm before the storm.
Others have been here for years, of course.  IFC Films always makes its play.  Magnolia Pictures tends to be in the conversation.  Oscilloscope came pretty close with a great coming out last year (and will no doubt be in the thick of it again).
The dependents that haven't been swallowed by their parent companies have made their hay in the awards season, from Focus to Sony Classics to Searchlight, but I remain very enthusiastic, and perhaps overly optimistic, that in an economy such as this, the competitive market has opened up a number of options.
The bottom line here remains the almighty dollar: If these companies can't monetize and establish significant profit margins, half of them could be gone in two or three years' time.  But for now at least, everyone seems to have a chip and a seat, to steal a poker phrase.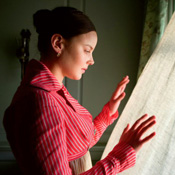 This feeling is obviously amplified by the Academy's (and PGA's) move to 10 nominees, a decision to which I was vocally averse.  While I still maintain the new paradigm cheapens the meaning of an Oscar nomination, I will say that the timing couldn't have been better for a company like, say, Apparition, which has a very real shot at a Best Picture nomination for "Bright Star" or, should it be released, "The Tree of Life."
And the obvious poster child for this is Summit's "The Hurt Locker" (though one can't help but wonder whether an awards campaign there would be on steady ground without the box office of the "Twilight" films).
The studios, of course, will be in the hunt as usual.  And though budgets are restrained, they will still have deeper wells than these other companies, but the balance of the 10 might actually be a nice antidote to their dominance if only because the indie sector (which is being declared dead, perhaps rightly, from a business standpoint) is still very much alive in the awards frame.
The prestige of awards has been a source of legitimacy (and ultimately income) for independent filmmaking that has kept the machine going in lieu of pulling the plug.  But that paradigm, too, is being questioned more and more.
It goes without saying: There's lots still to come.  The Weinstein Company (hardly dominant) has a classic Oscar push on the way in "Nine" (though, conversely, "A Single Man" is also in the stable).  Warner Bros. and the late-year Clint Eastwood show is on the way.  And the 10 could, as mentioned numerous times, find itself busied with glossy studio product across the board, eradicating everything mentioned in this column.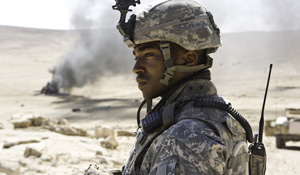 Regardless of that, I nevertheless can't recall another year where there were so many companies in the fray.  A quick glance at our studio-sorted Contenders section reveals 31 players.  That's a big number, and sure, many of them will fall by the wayside.  But it wasn't long ago that the awards discussion wouldn't last beyond Universal, Miramax, Dreamworks, Focus and Warner Bros.
Lionsgate's win in 2005 was somewhat significant in that it proved an alternative to that lineage was possible in the winner's circle.  Fox Searchlight's victory (finally) last year was significant, too, because it was the first non-Miramax dependent victory (though Focus came very close in 2005).
Perhaps eras are ending and new ones are dawning.  Perhaps things are merely in flux and the ship will be righted (i.e., back to studio dominance) in no time.  But in the glow of an underdog season (and the shadow of a troubling economy), it's difficult not to root for an upset to the status quo.
Just ask any Lions fan.
Predictions have been updated in the sidebar.  Check out the Contenders section for the latest movement.
*CORRECTION APPENDED: This column stated earlier that Dogwood Entertainment was the distributor of "That Evening Sun," but it is actually Freestyle Releasing.  Dogwood is the production company.