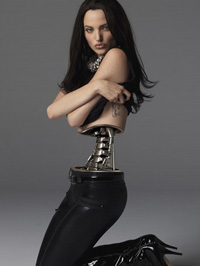 America lined up for seconds as "Cloudy With a Chance of Meatballs" topped the box office for the second weekend in a row, dropping only 19% to $24.6 million. That's a fantastic hold for the only family film out in the market and makes $100 million a very real possibility, if not a formality.
It was an otherwise slow and disappointing frame at the multiplex as audiences found some other way to entertain themselves. Did football season just start?
Second place went to Disney's "Surrogates," which grossed $15 million. While that might sound a little soft, it's actually better than Willis's average for this type of film in recent years as "Perfect Stranger," "Lucky Number Slevin," "16 Blocks" and "Hostage" all did less than $13 million. The trailer was great but the posters featuring robot models were pretty weak and I think Disney missed an easy chance to take the top spot.
MGM released its first film since "Valkyrie" amidst reports of possible bankruptcy and the $10 million pulled in by "Fame" is probably not going to help matters much. When dance films like "Stomp the Yard" and "Step Up" can pull in $22 million each, a remake of a well-known classic shouldn't pull in less than half of that. Of course, I use the term "classic" as loosely as they use the term "remake."
Overture's sci-fi/horror flick "Pandorum" also failed to light a spark with only $4.4 million.  That puts it among illustrious company like "John Carpenter's Ghosts of Mars" and "Screamers," which is a shame since it opened with good buzz and smart marketing. All you genre nerds out there, why didn't you go? Maybe Overture should have changed the title to "Tyler Perry's Pandorum."
"The Informant!" held well, as expected, while "Love Happens" and "Jennifer's Body" both dropped close to 50%. Score one point for quality there. The real action took place well outside of the top 10 as some Oscar hopefuls saw the light of day.
Michael Moore's "Capitalism: A Love Story" exploded out of the gate with $240,000 from only 4 New York and L.A. screens. "Bowling for Columbine" did $260,000 from 8 screens when it opened so the provocateur's latest call to action is poised for similar success. It won't reach "Fahrenheit 9/11"'s phenomenon status and that's what I think it would need in order to factor into the Best Picture race.
Audrey Tautou's "Coco Before Chanel" also impressed with $35,000 per screen in 5 venues and Sony Classics should be able to milk this one to at least $5 million, which could put it in play for costumes or art direction at least. Miramax failed to generate much heat for "The Boys Are Back" though, and Clive Owen will likely have to wait a while longer for that second Oscar nod.
Busy week for me at the movies, starting with "Inglourious Basterds," which I had sworn never to see but too many people I trust told me it was not the movie I thought it was, and they were right. Much, much better than "Kill Bill" but still leagues behind "Pulp Fiction" and "Jackie Brown," it was somehow intensely satisfying and intensely hollow at the same time.
I also saw "The Informant!" and thought it was solid. I appreciated Soderbergh's approach to the material and his execution, not to mention Damon's fantastic performance. And I saw "No Impact Man," which totally won me over in every way. Definitely check it out if it hits your town.
Next week gives us an invitation to "Zombieland." As far as I can tell, this trailer plays like gangbusters and Sony should be able to get $18 million out of it at least. Fox Searchlight opens "Whip It!" and if they can convince people that it's more "Juno" than "Post Grad" then they should be okay. I see a modest $8 million start before word of mouth lets it play through October.
Warner Bros. is dumping "The Invention of Lying" on only 1,800 screens and it'll be lucky to gross $5 million. Ricky Gervais can't catch a break with his movies but then maybe he shouldn't be making shitty looking supernatural comedies. The double feature makes a comeback with "Toy Story" and "Toy Story 2" in 3D opening wide and your guess is as good as mine there. Could be big, or could be totally ignored.
"Capitalism: A Love Story" expands to 1,000 screens and should crack $7 million or so, while "Bright Star" expands to 200, but another disappointing week this week means that still won't translate to more than $1 million.
What do you guys think?  Here are the weekend's top domestic grossers, courtesy of domestic relations: