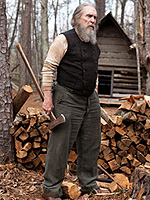 • We wrapped up Toronto as Lee Daniels's "Precious" took the festival's audience award, putting it on a solid track for Oscar.
• We got a look at the first trailer for "Harry Brown," which may or may not be an awards film for actor Michael Caine.  John, you'll recall, isn't feeling it.
• We saw 'Meatball' dominance at the box office in this weekend's Sunday Cents column.
• This week's Off the Carpet column kicked off our weekly Oscar coverage with a call for perspective on the perceived Best Picture frontrunners, while a new weekly column from across the pond — The Long Shot — introduces a different perspective mid-week.
• Also part of our season kickoff, this week's installment of The Lists offered thoughts on the 10 best Best Picture winners of all time.
• Sony Pictures Classics was busy this week, picking up Venice's Golden Lion winner "Lebanon" and Toronto favorite "Get Low."
• But hold your horses on the latter, as we learned the studio swiftly planned a 2010 release for Aaron Schneider's film.
• In other pick-up news, Newmarket Films nabbed Toronto's opening night film "Creation."
• With Steven Soderbergh's "The Informant!" hit theaters, we asked you what you thought of Matt Damon's Oscar chances.
• This week's Tech Support column primed the pump as the season takes a deep breath.
• With season tributes falling into place, we learned of honors to be handed out by the Hollywood film fest and Gotham Independent Film Awards.
• Speaking of festivals, AFI announced its opening night gala: "Fantastic Mr. Fox."
• And we learned that Ben Stiller was instrumental in getting "The Cove" screened at the Tokyo fest.
• Some delightful distractions were in store, such as a behind-the-scenes look at Rob Marshall's "Nine" and a promo trailer for the "Where the Wild Things Are" video game.
• And buried underneath all of that, the PGA announced plans to feature a 10 nominee slate this year.