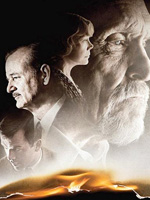 Those of you anticipating Aaron Schneider's "Get Low" and a potential second lead actor Oscar for Robert Duvall will have to wait a little longer.  Sony Pictures Classics will not be releasing the film this year and is priming it for a mid-2010 release.  No Oscar qualifying run is planned for 2009 either.
Sony Classics, as you're well aware, has a pretty full slate of films this year.  This could have something to do with the move.  It costs money to put films out into the marketplace, and while SPC might be one of the few dependents able to stay afloat in this economy, it's not a company made of money.  But I'm just spit-balling here.
Then there's the consideration of an Oscar campaign, which is also costly.  The studio has a number of opportunities for the 2009 race as it is.  "Coco Before Chanel," "An Education" and "Broken Embraces" represent a stacked trio of lead actress hopefuls, but Tahar Rahim's brilliance in "A Prophet" aside, I kind of thought SPC could use a contender like Duvall to amplify its lead actor profile.
But it's not going to happen.  Not this year, at least, so tidy up your charts and contender lists, folks.  The Lord giveth and the Lord taketh away.