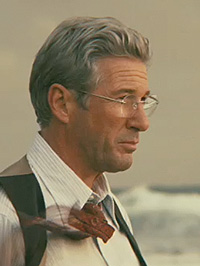 With Venice and Toronto behind us, the time has come to re-evaluate where the race stands in the crafts categories.
Over the past two months at In Contention, we have tried to take a glance at where the potential nominees stood from a distance. Best Original Song was delayed, though Kris has, might I add, been doing a very good job at accumulating a list of potential candidates.
Now, while many titles still need to be unveiled, the big festivals have had their say. Alas, the two films which probably emerged from Toronto in the best position – "Up in the Air" and "Precious" – hardly seem to be the sort of films which will be racking up tech nominations (though the latter is a sure-fire film editing contender).
More interestingly, a question arises: Will Tom Ford's "A Single Man" will be able to bring its Venice success to the USA in the crafts categories? It not only sports Ford's artistic vision but also the "Mad Men" team behind its production design.
"Bright Star" has landed, likely to still make a splash in the crafts categories, but I'm still not sure if it will be the overall player many were hoping for. This could reduce the scope of its potential here.
Two August titles – "Inglourious Basterds" and "District 9" – also did much better than I was anticipating, leaving me wondering whether they could end up bigger players than I thought in July.
But many questions still linger.
Will "Nine" be the behemoth so many people expect it to be? Will Mira Nair and Guy Ritchie be able to overcome somewhat spotty track records to make hits out of "Amelia" and "Sherlock Holmes?" Does James Cameron still have the savvy after a dozen years away from filmmaking? And how will Terence Malick's "The Tree of Life" fare? Malick's track record, for obvious reasons, leaves this question impossible to answer.
Next week, we'll start reviewing the categories one-by-one, so that they have all been reviewed twice by the time the precursors start arriving in December.  Until then, this seems to be where we're at.
What are your thoughts on the crafts races at this stage?  Have your say in the comments section below!