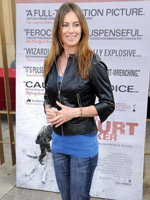 The Independent Film Project has announced this year's Career Tribute recipients for the 19th annual Gotham Independent Film Awards.
The feted will be: Kathryn Bigelow, whose film "The Hurt Locker" is on a steady awards season course; Natalie Portman, who is said to give a pretty solid performance in Jim Sheridan's upcoming "Brothers"; and Stanley Tucci, who is already a delight opposite Meryl Streep in "Julie & Julia" and could be an awards contender at season's end for his performance in Peter Jackson's "The Lovely Bones."
Working Title Films executives Tim Bevan and Eric Fellner are also set to be honored — WELL-deserved.
Michelle Byrd, executive director of IFP, is quoted in the press release.  On Bigelow:
Kathryn Bigelow's unparalleled ability to portray thrilling action and stomach churning suspense have been a mainstay of her work as a director…What sets her apart, however, is her ability to bring those talents to bear on films of any budget while also presenting characters with emotional gravity.
On Portman:
From a young age it has always been obvious that Natalie was a unique talent…Her maturity was evident from the beginning, both in the roles she chose and the quality of her performances. IFP is excited to salute her still young but already full career this year as she shows off her directing, producing, and acting talents in three different films this winter.
On Tucci:
Stanley Tucci is one of the most versatile stage and screen actors of his generation…He has been a longtime favorite in independent film but his recent successes in TV and more mainstream films have revealed his great talents to an even wider audience. With a new production company we look forward to more great films with Stanley in front of and behind the camera.
And on the Working Title boys:
Eric Fellner and Tim Bevan have a long-standing tradition of producing a variety of quality films covering a diversity of genres, topics and historical periods…Their impressive roster of seminal titles is a testament to their commitment to nurturing directors and talent.