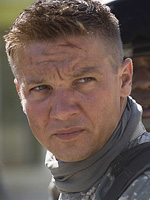 The Hollywood Film Festival has become just another stop on the awards campaign trail these days, various publicists getting in the ears of festival directors to make sure their clients get their (in most cases deserved) props as the season takes hold, amping up the exposure, etc.  So with that in mind, the list of award recipients for this year's Hollywood Film Festival have been announced.
Carey Mulligan and Jeremy Renner will receive the Breakthrough Actress and Breakthrough Actor awards, having made an impact in "An Education" and "The Hurt Locker" respectively.  Mulligan seems a cinch for a lead actress Oscar nomination, while Renner, in the typically more competitive lead actor category, may be somewhat on the bubble.
Lee Daniels will receive the Breakthrough Director Award for "Precious," while the film's star, Gabourey Sidibe, will received the New Hollywood Award.  Both deserve any and every awards notice they will get this season.
Finally, Scott Neustadter and Michael H. Weber, the screenwriters of "(500) Days of Summer," will receive the Breakthrough Screenwriter Award.  It's time for my confession: I have yet to see this film.
The awards are presented by STARZ Entertainment and will go down in roughly a month, on October 26, in Beverly Hills.  The press release features the requisite blanket quote of praise from festival founder and co-director Carlos de Abreu: "These honorees have been steadily laying the groundwork of choice projects upon which to build their Hollywood careers, and this was their year to really stand out."
All snark aside, though, I'm happy for all.