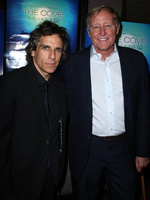 Ben Stiller has been vocal about his support for the dolphin slaughter documentary "The Cove." This I knew, but until I actually read through the Ric O'Barry interview we linked in this morning's round-up, I didn't realize he played a key role in getting the film a screening at the Tokyo International Film Festival, but that's just what happened.  According to O'Barry:
The Tokyo Film Festival has a green theme this year, but they weren't showing "The Cove." Ben Stiller and his friends, who have been supportive of the film, called up and complained about how unfair this was. The Japanese people have a right to know. Now there are four to five Japanese distributors fighting over the film.
Did I miss this nugget?  I knew festival brass had given in and allowed the film to screen (offering the limp excuse that the line-up hadn't been finalized and that the decision was never final — remember, the fest has a "green" theme this year).  But I didn't realize Stiller got involved.  Good on you, guy.