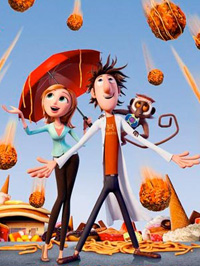 (EDITOR'S NOTE: My fault on the belated nature of Chad's column.  Back on track next week.)
*All historical figures cited are adjusted to today's dollars.
It had been almost two months since a PG-rated film hit the marketplace and parents were desperate for something to take their kids to. The result is "Cloudy With a Chance of Meatballs" topping the chart with $30.1 million and the seventh-biggest September debut of all time.
It also tops the $25.9 million of "Open Season" to become the biggest animated debut ever for Sony, which is not really considered a major player in that arena. The real money here should be in fast food tie-ins, though. Why haven't I seen a correlative toy in my happy meal? Somebody dropped the (meat)ball there.
A distant second place is where "The Informant!" landed with a $10.5 million gross. I've said it before and I'll say it again: 2009 is the year of the mustache and the proof is in the pudding. Anyway, this performance is more or less identical to the $10.8 million debut of "Michael Clayton" and I see no reason why this can't perform with similar legs, reaching $40-$50 million total. That's plenty enough to buy Matt Damon some Slim-Fast shakes and keep him on the lips of Oscar voters come January.
Tyler Perry Presents Tyler Perry's I Can Do Bad All By Tyler Perry's Self Starring Tyler Perry dropped a par-for-the-Tyler-Perry-course 57% and now we just wait three or four months until the next Tyler Perry movie opens. Tyler Perry.
Universal tried to bury "Love Happens" with a minuscule 1,898 screen count and minimal advertising, but somehow it managed to do okay and pull in $8.5 million. That's not as good as the $13.4 million that "Nights in Rodanthe" raked in last September but that film was on 1,000 more screens and had popular source material to help lure in the housewives. I'm sure this film is extremely boring but if it gets Judy Greer more work then it's fine by me.
Fifth place is where you find the big disappointment of the week in "Jennifer's Body."  Fox has failed time and again this year at courting the teenage and young adult crowd and this is yet another example. $6.8 million is frankly, pathetic and less than the debuts of "The Covenant" and "Cursed."  Do you even remember those movies? I didn't think so. "Jonah Hex" may delay the inevitable but the game is almost over for Megan Fox.
"9" and "Sorority Row" both dropped around 50% while "Whiteout" dipped out of the top 10 altogether as the revolving door nature of September box office plays out in full effect. The only other noteworthy events happened in limited release where Apparition made its big debut on the scene with "Bright Star."
The potential Oscar bigwig debuted with a modest $10,000 per each of its 19 screens. This result isn't going to blow up anybody's skirt in the box office world and unless something miraculous happens as it expands, a total under $2 million is about all it can hope for. All six of Jane Campion's previous films had higher per-theater averages in their limited debuts and it may be best to keep the film marked in pencil on your Oscar ballots.
This week I ventured out to spend $9 on "Still Walking," which was money well spent. If you have the chance to see Hirokazu Koreeda's beautiful family drama, do yourself the favor.
Next week gives us "Fame" from MGM, which hasn't released a film since "Valkyrie."  Dance films always do way better than they should but this one feels a little off. Maybe it's all the rust at the MGM marketing department, but I'm seeing $15 million or maybe a little less for this.
Disney couldn't decide if it wanted bald Bruce Willis or hairpiece Bruce Willis, so we're getting both in "Surrogates." The market could use a dumb action movie and Jonathan Mostow knows how to deliver cheap thrills so this could be a potential chart-topper with $18 million or so.
Finally, Overture tries its luck with sci-fi/horror and "Pandorum."  The marketing has been great from trailers to posters, but with no real star power and an unsettling tone, it'll be a tough sell. I'm saying $8 million and anything in double digits would be a big win.
What do you guys think?  Here are the weekend's top domestic grossers, courtesy of Exhibitor Relations: