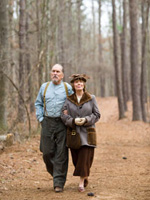 Just an hour maybe after I finished writing about why I had to take Robert Duvall out of the lead actor predictions (his film, "Get Low," didn't have a distributor yet), the news drops that someone has taken a bite: Sony Pictures Classics.
Talk about priming the stable with ponies.  Sheesh!  Here's the release, in part:
Sony Pictures Classics announced today that they have acquired the North American rights for Aaron Schneider's debut film, GET LOW. Schneider previously received an Academy Award for Best Live Action Short for his film, TWO SOLDIERS. The film is a co-production between Zanuck Independent, David Gundlach Productions, Lara Enterprises and TVN and produced by Dean Zanuck and David Gundlach. Chris Provenzano (THANK YOU, GOODNIGHT) and C. Gaby Mitchell (story by credit on BLOOD DIAMOND) penned the script…

"GET LOW is one of the great films about the American South. Brilliantly written, directed and shot, GET LOW has career best performances from Robert Duvall, Sissy Spacek and Bill Murray. This is the kind of independent film the American audience loves to embrace. We are thrilled Dean and Aaron have chosen us as their partner," said Sony Pictures Classics.
I pretty much anticipated this.  If not SPC, certainly Apparition would have seemed a good fit (or even Paladin).  But as I said in Friday's Oscar Talk, Sony Classics is somewhat short a lead actor hopeful (though in a just world, Tamar Rahim would tear up the circuit).  Now the film seems all but assured at least one nomination and perhaps a second statue for Duvall.
But let's not get ahead of ourselves yet…
Bill Murray and Sissy Spacek have also hopped into the race.  And the film seems to be quite precise in its period trappings, so maybe some ccraft recognition is in the cards as well.  Best Picture?  Hmmm……