You might have noticed this morning's round-up reverted back to "Oscarweb."  The big late-summer festival trilogy wrapped up with Toronto's kudo-dishing over the weekend and on the other side, we face the long haul.  The season is officially here.  You ready?
As punishing as it feels, I'm still excited for our weekly coverage.  Punishing because monthly diagnosis is so liberating, but we're at that stage where the nuances of the season are worth tracking closely, the layers of the race peeled back slowly but surely.  Today's Off the Carpet column kicks all of that off for us at In Contention.
Tomorrow we'll have a list dedicated to the best of the Academy's chosen.  Wednesday, Guy will launch "The Long Shot," a new weekly awards column that will consider things from afar without the dizzying insider silliness you find in this space every Monday, and I'm really excited for that.  Gerard comes back Thursday for another series of Tech Support columns, and, of course, Anne and I will continue the conversation Friday in our weekly Oscar Talk podcast.  I think we're covering all bases.
So, as we go into the season, what do we know?  And do we think we know more than we actually do?  Probably.
"Up in the Air," for instance, was the story of September if only because any goodwill toward "Precious" was already a known commodity.  Jason Reitman's "Juno" follow-up comes along at just the right time for the country, taps into actor George Clooney's movie star quality to find other insights and pretty much nails a tone, a vibe, an overall sense of things.
Yes, this is what Best Picture winners do.  But I get the feeling far too many are willing to call the race over and done with before it gets started.  That attitude is a bit defeatist, in some sense, and not at all reflective of the realities of the season, which can change on a dime (regardless of the fact that the last two years have been two of the most predictable to date).
"Up in the Air" is a much better film than "Slumdog Millionaire," but when it comes to an awards season, it isn't "Slumdog Millionaire." Nor is it "No Country for Old Men." It is a film made in the brilliance of its script, the carefulness of its execution.  But it isn't likely to come off as a hero for below-the-line types who prefer films that are at least moderate technical showcases. Reitman's film isn't meant to be a technical showcase, but neither were a number of masterful films that fell to contenders with the easy sell of crafts consideration.  But a whip-smart campaign could crack an egg on my face just like that.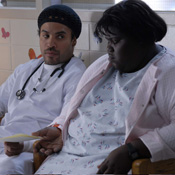 "Precious," with its one-two audience award punch in Sundance and now Toronto, crushed "Up in the Air" as the perceived "frontrunner" over the weekend in the eyes of many.  The trend around this time of year is to twist easily with the breeze, and that's fine.  But while we're all so anxious to declare a locked-in victor, again, let's be honest with ourselves.
"Precious" is a masterpiece, one of the best films of the year.  It is about childhood ruined and the hope that survives that.  It is an expertly directed piece that could well win an Oscar for Lee Daniels, but it doesn't go down as smooth as "Slumdog Millionaire," even with (abstractly) similar thematic ideas.  One might be inclined to consider it a more viable contender than Reitman's film if only because it wears its craft on its sleeve.  But it is a very difficult sit, so it isn't likely to become the "most agreed upon" effort, especially given the new voting system rules.
Even "A Serious Man," which for me is the master work of the year, could have trouble landing a nomination, to say nothing of a win.  The film works on a level the Academy rarely appreciates, but this group has surprised me before, so I'm willing to allow for the jury to still be out there.  My fingers are crossed.
But I've just rattled off three of my favorite films of the year and made pretty solid cases against them winning.  The point being, no questions have been answered here.  If nothing else, a shape is forming.
This time last year "The Curious Case of Benjamin Button" had yet to screen but was by-and-large "the one to beat."  It wasn't until November (in this space, actually) that anyone was willing to indicate a shifting tide in favor of Danny Boyle and Fox Searchlight.  So perhaps films like "Nine" and "Invictus," the perceived heavies of the year, could screen and bobble the landing and we'll all be talking about "Precious" and "Up in the Air" again in two months.  But for now, there is a lot that can happen.
However, the festival circuit has brought a few other variables to chew on.  Like a Best Actor situation at The Weinstein Company that may be fascinating to watch.  I don't think we're going to see Daniel Day-Lewis, Viggo Mortensen and Colin Firth all slide into contention, but the latter is the story as we move into the season.
Unacquired possibilities in the same category can make their presence known at any time, but the market is keeping them on the periphery.  The moment someone bites, however, Robert Duvall may well become one of the season's darlings in "Get Low," and to a lesser extent, Edward Norton could make a case for himself in "Leaves of Grass." The former comes in the more universally admired film, however.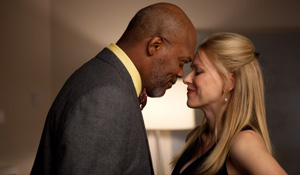 Annette Bening could leap into the lead actress race with a "Mother and Child" pickup (or certainly Naomi Watts in supporting), while Marion Cotillard will soon shake up the race when she becomes the lead actress push for "Nine."
So let's allow things to unfold before we jump to diagnose this beast.  The road is long and it is anything but straight.  The fun is in the journey, and it starts here.
As mentioned in the last column, we've done away with the weekly Oscar charts.  The obsession on who's up and who's down is officially for the birds in my book and passing commentary (with the requisite perspective) is more valuable to me than a green or red arrow.  So in their stead we have revamped the Contenders section somewhat, offering a three-tiered structure as a way of gauging where the threats might be.
Despite my moment of weakness in including Duvall on the chart last week, no film will be moved into my predictions or into the frontrunners section of a category without distribution.  It's the best way to control the clutter.  Additionally, no film will be moved into the frontrunners section of a category if it has not been seen.  It seems only logical.
So, have a look at our Contenders section to see how things are shaping up, check out Guy's updated predictions for a different take on things, or, as always, get a load of my thoughts on the race as I see it in the right sidebar.