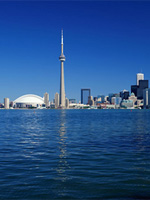 And so it ends. The last of the press screenings have winded down, the final Gala is tonight, and the awards are on the way, ending this year;s Toronto International Film Festival.
This year's fest was terrific, one of the better festivals, though still not as strong as 2007, which for me was the greatest ever. Once again you can feel the Oscar buzz happening around several of the films and performances that have been screened here, just as you can hear and see the buzz around films without distribution. At the end of it all, it was a great time.
I sit here today exhausted, with aching legs, tired of coffee, and not really wanting to see a film for a few hours. There is nothing worse than attending a festival and struggling to find good films, but that has never happened to me in Toronto.  Montreal is a different story…
The best film I saw at this year's festival was the searing "Precious," a stunning piece of cinema that is a work of art. Demanding, difficult, full of hate and rage, yet ultimately hope, "Precious" is extraordinary. Over the course of the festival I encountered many folks in the lines and on the streets asking me which film I thought stood out most, and each time I answered this one. Those who had seen it agreed wholeheartedly, and I met only one person who did not care for it.
Like "Raging Bull," the film contains that sort of dark and challenging power, not the sort of film you will want to see again and again, and hardly a date film, but a film that demands to be seens.
There seemed to be a bounty of great male performances at the festival, and it's quite likely that the Best Actor race began here with George Clooney in "Up in the Air," Matt Damon in "The Informant!," Edward Norton in "Leaves of Grass," Robert Duvall in "Get Low," Clive Owen in "The Boys are Back" and an outside chance for Nicolas Cage in "The Bad Lieutenant: Port of Call New Orleans," easily the most daring and bizarre performance of the festival.
Clooney does superb work for Jason Reitman, here with his third consecutive film, while Damon is darkly goofy for Steven Soderbergh in "The Informant!," which was released today. Duvall, arguably the greatest of American actors is superb as a backwoods man who comes out of hiding for his own funeral in the 1930s fable "Get Low," but if the film does not find a buyer, he may not make the race.
Owen goes a different route altogether with his heartbreaking performance as a widowed father trying to deal with his own grief and his two sons in Scott Hicks's film "The Boys are Back." And wonderfully daffy Nicolas Cage, perhaps the most daring American actor in movies, is a delight in Herzog's film as a corrupt, dangeorus cop on the edge, struggling with drug addiction, very bad men he has crossed and a drug murder he is on the verg of solving. Hallucinatory, and very odd, Werner Herzog has made a wildly entertianing film that will not please everyone, but was thoroughly entertaining.
In "Leaves of Grass," actor Edward Norton once again flexes those acting muscles and gives a performance better than the film itself, portraying twin brothers who cross a dangerous drug lord.  Hey, it was great to see Richard Dreyfuss back in a decent performance here.  With burning eyes that look through people rather than at them, Dreyfuss steals every scene he's in, reminding us that he was once one of the great American actors.
The ladies did alright on screens around the city as well, with strong work coming from Gabourey Sidibe and Mo'Nique, both in "Precious," with a fine cameo of sorts from singer Mariah Carey. Penelope Cruz was again excellent for her favorite director Pedro Aldomavar in "Broken Embraces" while Robin Wright Penn is getting raves for "The Private Lives of Pippa Lee," as well as Anette Bening in "Mother and Child."
I quite liked Natalie Portman in "Love and Other Impossible Pursuits," while Emily Blunt was outstanding as "The Young Victoria."  Though I never want to see "Antichrist" again, and agree that it is a work of art, Charlotte Gainsbourg was heartbreaking as a grief stricken mother for director Lars Von Trier, while Abbie Cornish got some excellent reviews for her work in the otherwise disregarded "Bright Star."
I was sad to miss "A Serious Man," the latest from the Coen brothers, but the press screenings collided with other films I had to see.  It just didn't happen. I heard great things, so there is something to look forward to later this fall.  Nor did I see "A Single Man," which also earned some great chatter up here for the performance of Colin Firth.  Luckily Kris and Guy respectively have afforded takes on each.
Atom Egoyan made his most mainstream film yet with "Chloe."  This new work is a stylish psycho-sexual thriller with an outstanding performance from Amanda Seyfried, fast proving she is indeed the real deal, and fine work from the always terrific Julianne Moore. The picture makes little use of Liam Neeson, who is in a supporting role as Moore's husband, but it works for the film.
It's nice to see Egoyan getting some attention from the studios with a film like this. He was appraoched by producer Ivan Reitman for the film and though he usually does his own writing, he took the assignment and delivered one of his most interesting films.
And there was "Whip It," "Solitary Man," "Valhalla Rising," the Canadian films "Defendor" and "Cairo Time" and a handful of others that made an impact. The single major disappointment I had was the Diablo Cody-written "Jennifer's Body," which, despite the presence of Amanda Seyfried and Megan Fox, was not scary nor terribly interesting.  Just buckets of blood.
I would have to say "The Invention of Lying" missed terribly for me, though I suspect it is more because of a dislike of Ricky Gervais than the film iteslf.  Comedy is a very personal thing, what I find funny you may not, and I found this film very unfunny. I did not laugh, snicker or crack a smile once.  The concept was interesting but the execution poor as Gervais turns it into the Ricky show, which killed it for me. Not even the delightful Jennifer Garner can save the film.
I always see TIFF as Christmas for critics, so like a kid after Christmas morning, I now retire from it all, wondering how long the wait will be until next year, which films will be here then, happy to think about what I saw and liked and how it all went by so fast. You blink and it's gone.
Until then…