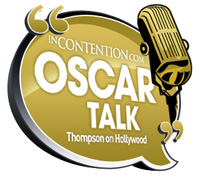 The third installment of Oscar Talk lands as Toronto winds down and, seemingly, the season's biggest questions are being answered. Or are they?
I'm joined by Anne Thompson of indieWIRE as always and we discussed the following:
• The Coen brothers' "A Serious Man," Anne's thoughts, my thoughts, the Coens doing Woody, etc.
• The first sell of Toronto, "A Single Man" (not to be confused with "A Serious Man"), and the Oscar prospects of Colin Firth and Julianne Moore.
• Business at the fest and a shifting acquisition paradigm in the industry.
• Anne gives her thoughts on Annette Bening and Samuel L. Jackson in Rodrigo Garcia's "Mother and Child," great performances, but will it be picked up?
• Robert Duvall's Oscar-worthy work in "Get Low," a film that has yet to be picked up when it's the sort of film that may have ignited a bidding war in years past.
• Thoughts on other films that bowed at Toronto, including "Capitalism: A Love Story," "Bad Lieutenant: Port of Call New Orleans" and "Jennifer's Body" (leading to a conversation about Megan Fox's talents that will put each of us out on a limb).
• Anne loved Edward Norton in Tim Blake Nelson's "Leaves of Grass" but found the film on the whole to be a missed opportunity.

But nothing seems to be decided even with a bulk of the season's offerings having been screened in Venice, Telluride and Venice. Onward!
As always you can subscribe to the podcast via iTunes here.  (If you have some audio issues with the levels, my apologies — with Anne in Toronto and me in North Carolina, we had some technical difficulties.)
[display_podcast]