Toronto Film Festival
Steven Soderbergh freely admits how much luck has played into his career, beginning with winning the coveted Palme d'Or at Cannes in 1989, the victory that launched his career and his first major work, "sex, lies and videotape."
"First of all the film was not supposed to be part of the competition but when another film was removed they bumped mine into that category," he explains, "and then Francis Ford Coppola, who was supposed to be head of jury, couldn't do it, so Wim Wenders took over. Without those two sets of circumstances would anything good have come out of Cannes for me? You have to ask yourself those things. Luck was with me, and I am fine with that. It's knowing what to do with that luck."
Soderbergh is a relaxed guy in this posh hotel suite. For some reason Warner Bros. chose the Royal York Hotel for their press days, away from festival village, and a cab (or subway) ride away from the action. I don't mind the break, and frankly I admire Soderbergh very much, so I was looking forward to meeting him and speaking with him about his film "The Informant!" (opening today) and his career.
At this stage in his life, as he nears 50, Sodebrergh smiles and says he sees so much comedy in the world around him these days.  "You have to see the humor in things don't you," he asks.  "When I read 'The Informant' for the first time I saw it as a comedy, which many other people did not. But think about it, there have been films like this done as drama, Michael Mann's 'The Insider,' which I like very much, so I chose not to go in that direction.
"The story we are telling is very dramatic, and very sad, but that will come out better if we approach it with some humor I think.  And as a great fan and admirer of 1970s cinema, I wanted the film to have that feel, that look, and all I can do is hope that I achieved that.
The director, increasingly comfortable with a slightly removed perspective on the industry, says he doesn't read reviews anymore.  He stopped some time ago, in fact, because he often found heavy criticisms hurtful.  "It's the nasty ones you remember," he says.
When it came to casting "The Informant!," the only person Soderbergh says he could see in the role was Matt Damon.  "He has that ability to disappear into the part," he says, "and he did just that, but the climax, the moment when it all begins to unfold, Melanie Lynskey (who portrays Damon's wife) is the key.  For the first time we see that she is on to him, that she knws more than she has been saying all along, and is tired of watching him suffer. She will stand by him, there is never any doubt about that, and it's her eyes in that scene, the pain, the sadness, that he's been found out that registers so well."
Soderbergh is right, Lynsky is quite good in the film, bouncing off Damon nicely. Still it is Damon's movie and the actor gives a wonderful performance, one of his best.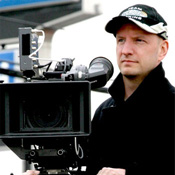 "There's a great deal of information being conveyed in the film, and to make that entertaining we have to rely on the actors," Soderbergh says with a smile.  "And as a director I need to stay out of their way. So much of the director's job is not screwing with the actors, letting them create and do their thing, making them comfortable to do their creating, because without that, as a director, you are in deep trouble. There is a lot of trust going on with the actors and director."
With so many fine performances in his films, does Soderbergh consider himself an actor's director?  "I'm not sure," he says.  "I'm not sure what kind of director I am. A competent one I hope.  My strengths are technical: I know the filmmaking process, I know how to put an image together and place them in sequence to tell a story. Again, I see myself staying out of the actor's way, letting them create, and if I can do that, and they do what they do well, then I have done my job."
Soderbergh is among the directors working freely between the independent scene and the mainstream, though he admits to preferring the indie side of things. That said, he says he's more than happy to have last year's indie opus, "Che," in the rearview.
"'Che' was hard work, brutal work," he explains, "and yes, when it was over, I often awoke thinking, 'Well, I don't have to do that today.' Part of it certainly was that it was less my film than Benicio's.  This was his dream project, and once we got going we had so little time to make the sort of film we wanted to make. I mean, yes I am proud of what we made, but the fighting over how to release it was frustrating.
He is referring to the dual film release pattern, which split "The Argentine" and "Guerrilla" in two as IFC Films saw it as more palatable to audiences in that form than a four-hour epic.  It turns out the four-hour roadshow that played some cities actually outperformed the films as two parts.
"They told me this after the fact," he says.  "They admitted, 'You were right, Steven, we should have went out with the four-and-a-half version."
I offer that I saw the longer version of the film here at the festival, loved it, and later saw it split into two films and it simply was not the same experience.  He thanks me for that with a knowing smile.
"The studio films allow me to make the smaller films I want to make," he says, "and I still have some I am interested in making. To do them I know that at some point I am going to have to play ball with the studios, which is not so bad if you have a clear vision of what you are making. That said, I am the guy who had a major film shut down three days before we were started shooting."
He is referring, of course, to the ill-fated "Moneyball" with Brad Pitt attached at Sony.
"I had cast and crew ready to go on the Monday, and Friday we were told it was not going to happen," he says.  "Crew people I know and like, whom I work with a lot, were out of work, and that was frustrating for me. I know I can pick up a phone and get something going, but for them, it meant four-to-six months of not working, and I felt quite terrible about that. However, in working with the studios, you have to understand that those sorts of happenings can be a reality. If there is the slightest chance of failure, or that the film is not going to perform well, it is not going to get made."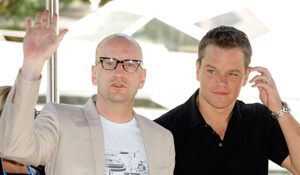 Soderbergh says the overarching state of American cinema is precarious right now.  He admits there are some very good films being made but so much pressure is placed on the filmmakers over performance, over the bottom line, box office, etc.
"I can tell you I did not get into the business to make tons of money," he says.  "I wanted to make films, and I am very pleased and proud I get to do that. Now don't get me wrong, making money allows me to make personal projects I really want to make, but I do not follow the weekend grosses.  By the time the film is released I am off on something else, maybe two films removed from that one, so I am distracted."
In 2000, Soderbergh became just the second filmmaker to receive two Best Director nominations for two separate films: "Erin Brockovich" and his crime epic "Traffic."  He went on to win the Oscar for "Traffic" and gave a deeply felt, emotional speech in which he celebrated the fact he was able to go to work the next day and create art, and he was proud to live in a country that permitted that.
"Winning the Oscar was surreal, because for one thing it was unexpected," he says.  "I thought, as did everyone else, I would cancel myself out.  S0 when they called my name I was shocked.  But it was a nice feeling to win, to earn that sort of respect within the industry.  So many great directors never get nominated, never win.  It was nice."
Looking back at the many films he has made it is difficult to come up one that best defines him as a filmmaker, and he could not pinpoint one for me.  He isn't finished, of course, so perhaps that film has yet to come.
"I loved making them all, and though 'Che' was difficult, I loved the creative process, so to choose one, sorry, I am not ready to do that just yet," he says.  "What do you think?"
I tell him he has made many films I love, 'Che' being at the top of the list because of its daring, because no one is making films like this anymore and because Del Toro's performance was so extraordinary. I tell him I like the sexiness of "Out of Sight" and again the performances within, and the fact that he nailed Elmore Leonard more succinctly than anyone else on film.
I liked "The Informant!," I liked "King of the Hill" and I admire "Erin Brockovich" because he tapped into something many of us did not believe Julia Roberts had. "Traffic" is a masterpiece, but the film I think best represents Soderbergh as a filmmaker is "The Limey," a small indie work about a ferocious father brilliantly portrayed by Terence Stamp hellbent on finding his daughter in Los Angeles.
I admired Stamp's fire-breathing performance so much, and loved the manner in which Soderbergh captured the behind-the-scenes sleaze of the music industry, but most of all I liked the film's spirit. It felt like a 1970s film, it was possessed with an indie spirit it did not cost hundreds of millions of dollars, proving that you do not need a $200 million budget to tell a great story.
"Amen," he says, "and thank you so much."
Finally I ask Soderbergh if he was saying something to corporate America with his latest film, which some have pegged as a mean-spirited swipe.  There was no hesitation in his answer.  He came back right away with, "Naw, it's an entertainment, a great story about a man who got in over his head.vvI hope people have some fun with it. I think it's a great argument for absolute honesty at all times."