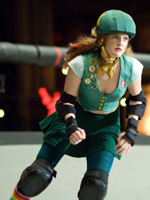 More from the fest…
"Whip It" (***)
Skinny Milly Miller.  I remember that name from the roller derby shows on Saturday afternoons in the 1970s. My grandfather loved sports of any kind and when there was nothing else, it was roller derby he would watch, and invite me to do so with him. I loved him so much I never had the heart to tell him how stupid a sport I though it was, so I sat down and watched it with him. His favorite skater was a tall, black woman named Skinny Milly Miller.
Anyway, I have always liked Drew Barrymore, that familiar manner in which she makes you feel like an old friend, even when meeting you for the first time. Though I never thought much of her as an actress until this year (in HBO's "Grey Gardens"), I have always respected her as a fine movie star.
To her credit, Barrymore is doing more than opening a film here.  She is also involved in festival side events, such as the roller derby exhibition at Dundas Sqaure, and making various TV performances..
She's here at TIFF with her new film "Whip It," in which she not only stars in but also directed.  Yep, Drew Barrymore has made the transition to the other side of the camera, joining the ranks of Barbra Streisand and Penny Marshall as actresses turned director.  But what is most exciting about "Whip It" is that Barrymore has made a film about women and for women without shutting the  men out.
She sets her film film in the world of roller derby, which really had its heyday in the mid-to-late 1970s but is now enjoying a comeback as a grassroots sort of entertainment.   As a director, Barrymore does a nice job plunging us into this world, capturing the exhilaration of the game, the speed and the bloodlust that creeps in somehow.  It isn't top tier work but she is very competent, handling the story well and the action scenes even better. And she's cast the film well.
Bliss (Ellen Page) is tired of being placed in beauty pageants by her mother, a faded debutatnte who wants her daughter to have the glory she never did. While in Texas, Bliss attends a roller derby match and is hooked on the game, finding it both fast-paced, everything she has never been allowed to do. She dives into the sport and is soon living a double life, or trying too, as a beauty queen and roller derby hellcat.
The portrayal of the sport is surprisingly real, with Barrymore pulling no punches about the sort of violence that takes place during these games. These girls hurt one another, with flying fists, bodies and feet, whatever it takes to get ahead.
Page is outstanding as Bliss, proving again she is very likely one of the finest young actresses working cinema. She slips effortlessly under the skin of this character and inhabits her in every way, and after meeting Ellen Page a few times, I can safely say that the characters she creates bear no connection to her at all. She quite simply disappears into the performance, her eyes conveying the growing love she has for a game so far from her world of gorgeous clothing, posing and makeup.
The real stars of the film, however, are the supporting cast members, who steal the show.  These include Barrymore as Smashie Simpson, Zoe Bell as Bloody Holly and perhaps best of all, Juliette Lewis as the dangerous Iron Maven. Love those names, which are half the fun.  And that's really the root, here: the film is fun to watch.  And the girls look they are having a blast on screen.  Perhaps that, more than anything else, is Barrymore's greatest accomplishment as a director: she directed a film people had fun making and that audiences will have fun watching.
Is it art?  No, but neither was it meant to be. What it does speak too is a young woman's need to belong somewhere, even if that place goes against everything she has known or been taught. When we find where we should be, we should not listen to anyone but embrace the fact we have found what we are.
"Valhalla Rising" (****)
Viking films have never really found their way as a genre picture in American film, and if anyone says "What about 'The Viking,'" the 1958 turkey with Kirk Douglas, I may laugh out loud.  It would seem to be a genre that would bring adventure, excitement and something perhaps we have not seen before to the screen.  If they did it right, that is, and what are the chances of that in a business that so worships the almighty dollar?
"Valhalla Rising," a superb film from "Bronson" director Nicolas Winding Refn, comes to us as a co-production of Denmark and the United Kingdom.  And it immerses us in the world of the Viking.
The images in the film are gritty and raw, with a barren landscape not yet conquered by any society, and those tribes that do exist seem to be at war with one another constantly. They want what the other has because that gives them a degree of power, nothing more. It's not so much that they like killing and maiming, just that it has become a necessary part of the job.
Though the film's narrative seems vaguely familiar — murderous brute befriended by his keeper and the coming of Christianity to this violent world — there was also something incredibly original to the film. This seemed to be a world just being discovered, as the characters move from place to place seeking something better.
And the landscape! My God, barren, rugged, brutal on the body yet a cinematographer's dream. On one hand I can just hear the director of photography chuckling with glee at the possibility of the images he will give us, but also cursing the locations manager and director, because given the terrain, how the hell is he supposed to set up these shots?
Well, lenser Morten Søborg pulled it off, and he did so wonderfully. And listen closely to the silence of the landscape, with only the wind and birds, no cars, nothing but what was there in the beginning…brilliant.
Refn is regarded among the more audacious filmmakers working in Europe at the moment and in addition to giving us an aesthetically beautiful film, he draws a fearsome performance out of Mads Mikkelsen, best known to us from Casino Royale, who is simply superb as One Eye, the silent and lethal killer. The relationship between him and the boy who feeds him and brings him water, his "keeper," I suppose, is interesting to watch, because for the most part, One Eye is treated as an animal, a vicious pit bull set loose at times of combat to do his job: kill. The boy seems to see something different, and watching that evolve was fascinating.