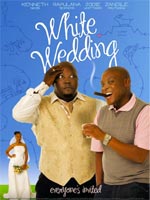 … as I just was, my Cape Town-based friend Ed just notified me that the country has selected their official foreign-language Oscar submission. "White Wedding" is a romantic comedy from novelist-turned-filmmaker Jann Turner, and starring Jodie Whittaker of "Venus" fame.
The blurb describes it as "an appealing, feel-good movie about love, commitment, intimacy and friendship and a host of maddening obstacles that can get in the way of a happy ending." Yes, but what's it actually about? I'm afraid I'm none the wiser.
Turner's accomplished novels are on the sentimental side of socially conscious; I'm guessing that sensibility extends to her films. "White Wedding" has had a healthy domestic box-office run; an unusual feat in a country where local adult-oriented cinema rarely finds a large audience.
You'll remember that South Africa made a major Oscar splash in the middle of the decade, scoring back-to-back nominations for "Yesterday" and "Tsotsi," and winning for the latter. Since then, they've only made one (unsuccessful) Oscar bid with last year's "Jerusalema." I don't know if this new film has the Academy-friendly gravitas of the country's previous nominees, but it's always nice to see the country in the hunt.
Finally, just a reminder that Nathaniel Rogers at The Film Experience has his super-comprehensive Best Foreign Language Film charts up. Since I'll be away next week as more contenders continue to flood in, you can count on Nat to keep things updated.