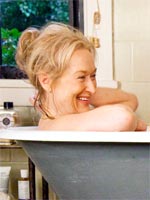 I realized yesterday I hadn't updated my own Oscar predictions since July, so a spring-clean was in order. I should really wait for the end of Toronto, but I'm off on vacation on Saturday, so there's no time like the present.
Needless to say, a lot can change in two months — particularly when those two months include the start of the festival season. Back in July, "Shutter Island" was still a fall release, Colin Firth wasn't even on my radar and I still expected "Up in the Air" to be a minor-key adaptation of a minor-key novel. It was a more innocent time.
As always, if you want sensible, well-reasoned, informed predictions, you're better off looking to your right.
I'm sticking with my weird gut-only hunch that major players like "Invictus" and "The Lovely Bones" aren't quite going to pan out … it's anticipating the year's underachievers that I find most interesting. (Though my instincts obviously aren't always on the money. I was right never to place any stock in "Charlie Wilson's War" two years ago; "Frost/Nixon," not so much.)
Meanwhile, I'm sticking by my largely irrational theory that Nancy Meyers's "It's Complicated" will emerge as Meryl Streep's dominant vehicle, while my wild-card punt on Tilda Swinton really stands for the absence of a fifth Best Actress contender I can really believe in. Festival developments are gradually firming up certain aspects of the season as we go, but there's still room for a bit of fun.
My updated predictions, for those interested, here.