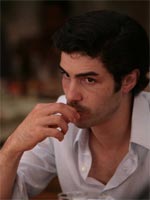 News has just come in that France has selected Jacques Audiard's critically lauded prison drama "A Prophet" as their official entry in the Best Foreign Language Film competition. (Thanks to reader Ali for the tip.)
The film was chosen by a panel including actress Jeanne Moreau, Cannes festival director Thierry Frémaux and filmmakers Jean-Jacques Annaud, Costa-Gavras and Régis Wargnier. Classy.
The choice comes as no surprise whatsoever: many have regarded it as a virtual fait accompli since the film's sensational debut in Cannes, where it won the runner-up Grand Prix. (It will, of course, once more face its Cannes conqueror, "The White Ribbon," in the Oscar race.)
Meanwhile, for the last two years running, the French have gone with comparatively edgy Cannes winners as their Oscar ponies ("The Class" was nominated, "Persepolis" infamously snubbed), so the selection of "A Prophet" continues that pattern.
Some are already talking up the film as a favorite for the award, though as we all know, the Academy's foreign-language committee can be as wilful as they are out of touch. Gritty crime sagas aren't very much to their taste — as early favorite "Gomorrah" learned earlier this year.
That said, the film has played extremely well at Telluride and Toronto (check out Kris's favorable capsule review here), and looks set to feature heavily in the precursor lists. (It's even being listed as an outside contender in other other categories, including Best Adapted Screenplay and Best Actor for breakout star Tahar Rahim.)
That momentum should be enough to secure it a spot on the initial 9-film shortlist in January — particularly with the recent innovation of a smaller executive committee to prevent major contenders slipping through the cracks. That said, that very committee still missed the boat on "Gomorrah." You just don't know with these guys.