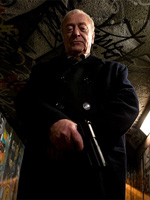 Michael Caine has won the Academy Award for Best Supporting Actor twice, the first time for his performance in Woody Allen's "Hannah and Her Sisters,"and the second for Lasse Hallström's "The Cider House Rules."  Among others, he ousted Tom Cruises's brilliant performance in "Magnolia" with the latter.
Beloved within the business, Caine is considered an old war horse who has made as many bad movies as he has good ones (I think I'm being very fair), and it is my belief the Academy would like nothing more than to finally recognize his work as a leading man. He has been nominated in the past for "Alfie," "Slueth," "Educating Rita" and "The Quiet American," but he's never won in the category.
Let me be clear: SO WHAT?
The man has two Academy Awards on his mantle — two — while many other actors are still waiting for their first (and in some cases, many still await their first nod).  Why is it that every time Caine makes a film that is reasonably good and he offers a typically fine performance, people start talking Oscar? Personally, if I were Caine, I would find it a tad demeaning.
He is here with his new picture "Harry Brown" (**), a dark and winding film in which the actor has a good role as a man pushed to revenge by circumstances beyond his control. I was reminded of "Gran Torino" while watching the film, though Caine does not conjure up the same sort of fear or toughness as Clint Eastwood.  He can still be a frightening character. Remember his Mortwell in "Mona Lisa?"  Chilling, just freaking scary, but none of that menace is visible in this performance.
From the moment the film was announced as a TIFF title, buzz started swirling around Caine as a Best Actor candidate, and after seeing the film, I was surprised that such talk ever existed in the first place. It's a good performance, but hardly vintage Caine. In fact, since seeing the film, this is the first time I have even thought about it. Best Actor? I doubt it, especially after the Academy so blatantly snubbed Eastwood last year!
This festival has been loaded with Best Actor prospects, but I am stating loud and clear, as much as I admire Caine, he is not among them.
"It's all about the role,"Jack Nicholson has said.  "It doesn't matter about the size, never has now, has it?"
Robert Duvall quite agrees, stating "the best parts are usually the supporting roles."
Why this need to get Michael Caine a Best Actor Oscar? Let it go. If he gives a performance that knocks us on our collective asses, like Duvall in "Get Low," then I will be the first to celebrate his work and scream for him to win an Academy Award. But come on, not for something ordinary that is not even among his best work.
And with all due respect to Mr. Caine, in 1986 Dennis Hopper gave a terrifying performance in "Blue Velvet" but was not nominated. That paved the way for Caine. The second Oscar I simply do not understand, for while his gentle doctor was a fine performance, it was not superior to either Cruise's fire-breathing seminar speaker or even Haley Joel Osment's hauntd chld.
I love Michael Caine, but he should not win an award because people think he is owed the damned thing.  The man was not nominated for his best work as Peachy in "The Man Who Would Be King" so why give him an Oscar for a lesser piece of work?  It compounds the problem.